LatAm in Focus: Guatemala's Electoral Crossroads
Veteran journalist Juan Luis Font of ConCriterio covers who's in—and out—of the race, democratic hurdles, and voter worries ahead of the June 25 election.
When Guatemalans vote for their next president on June 25, they will get the chance to choose from nearly two dozen names. But three notable aspirants won't be on the ballot: conservative outsider and poll frontrunner Carlos Pineda, indigenous leader Thelma Cabrera, and the fson of a former president Roberto Arzú. With all three eliminated from the competition by the country's courts, they are urging Guatemalans to void their ballots and calling their disqualifications "electoral fraud."
Explainer: Guatemala's 2023 Presidential Elections
On June 25, voters will pick from a wide field of candidates to replace President Alejandro Giammattei. But some top contenders have been disqualified.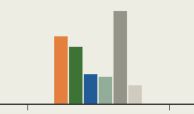 Poll Tracker: Guatemala's 2023 Presidential Election
Voters will have to pick from nearly two dozen candidates in the June 25 first-round vote. AS/COA Online covers polling and top issues.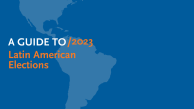 A Guide to 2023 Latin American Elections
AS/COA covers this year's votes in the Americas, from presidential elections to referendums.