Poll Tracker: Brazil's 2022 Presidential Runoff
After an unexpectedly close first round, see how the race between Lula da Silva and Jair Bolsonaro is shaping up ahead of the October 30 runoff.
It didn't go as expected.
Brazil's October 2 first-round elections saw former President Luiz Inácio Lula da Silva get close—but not quite—to the 50 percent threshold required to win the presidency outright in the first round. Lula captured 48.4 percent of the vote, as polls largely predicted.
But the big revelation was the narrow gap between him and his rival, current President Jair Bolsonaro. With 43.2 percent of the vote, he will now face Lula in an October 30 runoff. "The fact that we now have a runoff is not a surprise. The fact that it is a competitive runoff is," said Brain Winter, editor-in-chief of Americas Quarterly, in a Twitter Space debriefing the first-round results.
Voting in Brazil is compulsory. Turnout in the first-round vote was 79 percent.
AS/COA Online tracks surveys by top pollsters ahead of the vote.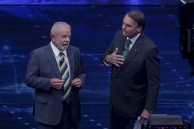 Five Things to Watch ahead of Brazil's 2022 Presidential Runoff
Jair Bolsonaro and Luiz Inácio Lula da Silva face off in the October 30 second round. Learn about campaign strategies, misinformation, and Minas Gerais.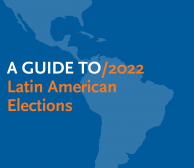 Guide to 2022 Latin American Elections
AS/COA covers this year's votes in the Americas, from presidential elections to referendums.