Twitter Space: A Brazilian Election Debrief with Monica de Bolle and Brian Winter
Hear the recording of the conversation moderated by AS/COA's Luisa Leme on the October 2 elections. 
Speakers
Monica de Bolle, Senior Fellow, Peterson Institute for International Economics
Brian Winter, Vice President of Policy, AS/COA; Editor-in-Chief, Americas Quarterly
Luisa Leme, Director of Multimedia, AS/COA (moderator)
"The main message from yesterday is the far right is alive, established, and consolidating itself in Brazil. It will survive long after Bolsonaro," said Monica de Bolle in a Twitter Space to debrief on the October 2 Brazilian election. She explained that a poll-defying performance from President Jair Bolsonaro and strong performances in congressional and gubernatorial races showed the lasting power of conservative politicians and voters.
What can we expect from these newly elected officials in Congress? An agenda that includes shrinking the state, explained de Bolle. She also anticipates changes in economic priorities. "There is a push to make the agribusiness section the center of growth," as that industry is central to the Bolsonaro camp, she said. This reorientation, she explained, could rattle the strength of other Brazilian industries.
The viability of executing the far right's agenda in Brazil will depend largely on the runoff presidential race on October 30 between Bolsonaro and former President Luiz Inácio Lula da Silva. "The fact that we now have a runoff is not a surprise," said Brian Winter. "The fact that it has a competitive runoff is." Both Winter and de Bolle agreed that Lula still has the advantage in the race, but it may be less settled than polls suggest. The runoff, Winter explained, will be highly polarized and could get violent. "It is one that will put Brazil's democracy under stress and will leave some scars," he said. "It's going to be a dramatic few weeks."
Hear the recording:
— Americas Society/Council of the Americas (@ASCOA) October 3, 2022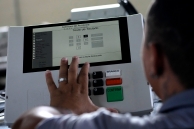 AS/COA Insider: Brian Winter on Brazil's First-Round Presidential Election
"It's not clear to me what anyone could do or say at this point that would change most Brazilians' minds," says the AS/COA vice president.