Petro vs Hernández: Where Do Colombia's Candidates Stand on the Issues?
Ahead of the June 19 presidential runoff, read about the candidates' positions on issues such as anti-corruption efforts and economic policy.
In the May 29 first round, Colombians dealt a blow to the political establishment by putting two unconventional candidates into contention for the June 19 presidential runoff vote. Now voters will choose between leftist former Bogotá Mayor Gustavo Petro and real estate mogul Rodolfo Hernández, both of whom could be considered populists.
Enthusiasm for political change runs high, and a record 54.91 percent of eligible voters participated in May—the highest turnout the country has ever recorded for a first round. While that figure may seem low, the average turnout in the country is just 46 percent.
The candidates have less than a month to win over voters and prove they're the right candidate to tackle Colombia's mounting problems, such as rising poverty, violence, food insecurity, and the complexity of maintaining a peace deal with insurgents. Per a Gallup poll from May, 75 percent of Colombians believe their country is headed in the wrong direction.
Both candidates are trying to answer the call for transformation manifested in street protests of recent years. Petro, a senator, and former guerilla, has campaigned on plans to overhaul the economy and redistribute wealth. He would become Colombia's first-ever leftist president. Meanwhile, Hernández, who has little political experience apart from his stint as mayor of mid-size city Bucaramanga, soared in the polls with straight talk against corruption among the political elite, and his avuncular charm proving popular on TikTok.
How do Petro and Hernández compare on the issues? AS/COA looks at their positions on some of Colombia's top concerns.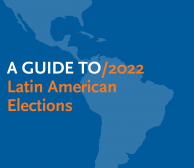 Guide to 2022 Latin American Elections
AS/COA covers this year's votes in the Americas, from presidential elections to referendums.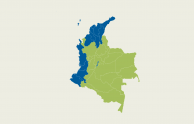 Poll Tracker: Colombia's 2022 Presidential Runoff
See how the matchup between Gustavo Petro and Rodolfo Hernández is shaping up ahead of the June 19 vote.