Poll Tracker: Colombia's 2022 Presidential Runoff
See how the matchup between Gustavo Petro and Rodolfo Hernández is shaping up ahead of the June 19 vote.
In the May 29 first-round election, Colombians dealt a major blow to the political establishment, putting Gustavo Petro into a runoff against Rodolfo Hernández.
Petro, who captured 40.4 percent of the vote in the first round, was the runner-up in the 2018 presidential runoff. The leftist ex-mayor of Bogotá, who spent time as a guerrilla fighter. Hernández, meanwhile, won 28.2 percent of the vote with a platform centered on anti-corruption. His only previous experience in government was as mayor of the city of Bucaramanga, though he's a successful real estate developer, engineer, and a newfound TikTok sensation.
Now, each of the candidates has limited time to convince Colombian voters that they're the right man for the job. The runoff is scheduled for Sunday, June 19. 
In this poll tracker, AS/COA Online looks at how the contest between the two candidates is shaping up and what Colombians' top issues are ahead of the election.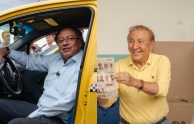 Petro vs Hernández: Where Do Colombia's Candidates Stand on the Issues?
Ahead of the June 19 presidential runoff, read about the candidates' positions on issues such as anti-corruption efforts and economic policy.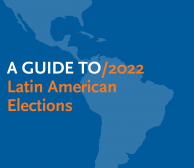 Guide to 2022 Latin American Elections
AS/COA covers this year's votes in the Americas, from presidential elections to referendums.