North American Energy Integration: The Canadian Perspective
This Energy Action Group report examines strategic Canadian energy issues ranging from the oil sands to environmental and indigenous issues.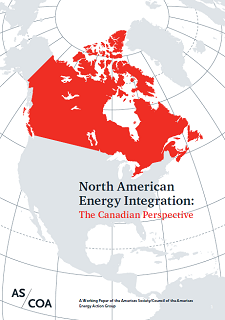 A revolution is underway in North American energy. From a posture of energy scarcity North America has moved to abundance. Canada's oil sands, shale oil and gas development in the United States, and significant reforms in Mexico together have the potential to alter fundamentally the global energy map and, with it, strategic energy issues facing Washington. 
From the Canadian perspective, further energy integration within North America is also a strategic issue because the Canadian economy is dependent on natural resources including energy exports. Already the nation is by far the top energy supplier to the United States, and virtually all of its energy exports come to the United States. The relationship is truly symbiotic, and includes the full range of energy trade from power generated by renewables such as hydro to oil and gas shipped by truck, train, and pipelines. 
North American Energy Integration: The Canadian Perspective discusses the strategic issues facing Canada with regards to development of the oil sands, the politics and policy of energy markets, environmental and indigenous issues, investment and financing, and market access. In looking at market access, the paper argues that the Keystone XL pipeline should be approved to bolster energy cooperation between Canada and the United States, but looking at the relationship from the perspective of one pipeline is too narrow. One of the consequences of the delay has been Canada's look toward Asia for energy exports, which undermines regional integration. Finally, the paper discusses Canada's role as a leader in renewable energy, with a strong hydroelectric power sector as well as emerging capacity in wind, solar, and biomass. 
---
AS/COA's Energy Action Group (EAG) brings together the public and private sectors to develop strategic energy policies for the Americas. The EAG hosts forums in cities across the Americas and publishes working papers and recommendations on key energy and climate topics.
---
For media inquiries or to speak with an expert on this topic, please contact Adriana La Rotta at alarotta@as-coa.org.