LatAm in Focus: Will the Anti-Incumbency Wave Reach Argentina and Guatemala?
Universidad del Valle de Guatemala's Marielos Chang and Cefeidas Group's Juan Cruz Díaz cover what to watch ahead of the two countries' presidential races.
New to the podcast? Check out past episodes and learn more about Latin America in Focus, and subscribe on Amazon, Apple, Spotify, Google, Soundcloud, or Stitcher.
In 2023, several Latin American countries hold elections and there are already signs that voters, worn out by challenges such as economic woes and corruption scandals, are following the regional trend of frustration with the status quo. But will they turn to the opposition? In this episode, we check in on the electoral mood in Guatemala and Argentina, which hold presidential votes in June and October, respectively.
In Guatemala, conservative President Alejandro Giammattei, who can't seek reelection, has an approval level of 24 percent. That doesn't mean voters will necessarily head to the other end of the political spectrum; Zury Ríos, daughter of now-deceased dictator Efraín Ríos Montt, is a frontrunner. But even if the international community is baffled by her popularity, many voters "don't recognize that we went through a genocide, that her father actually promoted a genocide against a group of people in Guatemala," explains Marielos Chang, a professor at Universidad del Valle de Guatemala and general secretary of Ciudadanía Celeste, a political organization that seeks to compete in the 2027 election. She tells AS/COA's Carin Zissis about why the strong influence of both the church and the military as keeping conservatism at the fore. 
The other thing Ríos and other top candidates have going for them is name recognition, which goes far when voters are handed ballots with as many as 29 political parties competing for political posts, says Chang.
But all the options don't necessarily mean voters feel they have good choices in a country where 42 percent of people say corruption is their top concern—the highest level in Latin America, per Gallup. "There's a lot of despair, a lot of disappointment regarding the authorities…and the political leaders," says Chang.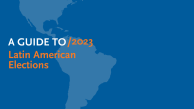 A Guide to 2023 Latin American Elections
AS/COA covers this year's votes in the Americas, from presidential elections to referendums.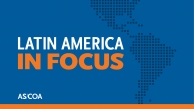 Latin America in Focus Podcast
Subscribe to Latin America in Focus, AS/COA's podcast focusing on the latest trends in politics, economics, and culture throughout the Americas.