LatAm in Focus: How Is the Coronavirus Changing Brazil?
Listen to three past guests share how COVID-19 has redrawn the scenario for Brazil's China ties, the battle against misinformation, and Amazon deforestation.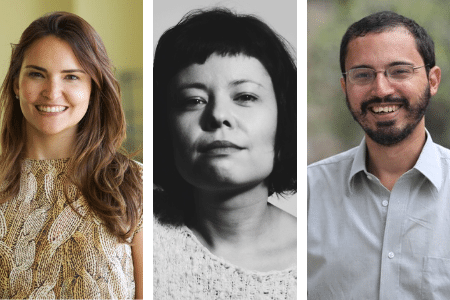 L to R: Maria Antonia Tigre, Tai Nalon, Maurício Santoro
In Brazil, the coronavirus crisis is piling up on top of a previous recession, deforestation worries, and political polarization. AS/COA Online spoke with three prior Latin America in Focus guests to understand the pandemic's impact on the country, focusing on how Chinese relations, misinformation campaigns, and the environment.
The pandemic has reframed Brasilia's relations with Beijing, its top trade partner and an important provider of materials provider for battling COVID-19, as Maurício Santoro, a political scientist in the International Affairs Department of the State University of Rio de Janeiro, told AS/COA Online's Luisa Leme. Santoro, featured in a November 2019 conversation about Sino-Brazilian relations during President Jair Bolsonaro's year in office, says Brazilian officials blaming China for the pandemic has created some bumps for bilateral ties, at a time when "Brazil has a big dependency on China on medical supplies, masks, [and] ventilators."
"It's becoming even more clear now that there is this spillover. The health of nature reflects directly human health as well." —Maria Antonia Tigre