LatAm in Focus: The Elections of Colombia's Discontent
Ahead of March's presidential primaries and legislative elections, Albright Stonebridge Group's Muni Jensen previews what's at stake for the country's democracy.
In the spring of 2021 and just over a year into the pandemic, Colombians took to the streets to vent pent-up frustrations. What was behind the unrest? "This whole cocktail of global economic decline, poor government, plus Covid, put an end to this growth [from the past decade], and people are very unsatisfied with inequality, with the corruption, with the lack of providing basic services," Muni Jensen, a political analyst and senior advisor with the Albright Stonebridge Group, tells AS/COA Online's Holly K. Sonneland. While the protests have since subsided, the discontent continues to simmer as the country heads into a big electoral season.
The country's 2022 presidential votes officially take place May 29 with a potential June runoff, but a vote two months earlier could be more decisive: the March 13 interparty consultations, which will function like primaries and winnow the field. Four years ago, there were only two consultations: one for candidates on the right and another for those on the left. This year there are three: one for candidates on the left, a second for those on the center-left, and a third for those in the center-right. The expansive field—and the inability of parties and coalitions to concentrate momentum in any one direction—is disconcerting for observers of Colombia's institutional political tradition. "There is the concern that this new society … is actually rejecting the traditional institutions and democracy itself," says Jensen.
"The makeup of cabinets has to change and include new faces."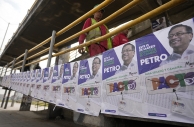 Explainer: Who's Who in Colombia's 2022 Presidential Race
Will the country change political course? Ahead of the May 29 first round, we look at the top presidential candidates.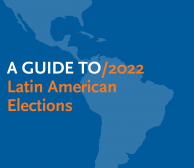 Guide to 2022 Latin American Elections
AS/COA covers this year's votes in the Americas, from presidential elections to referendums.