LatAm in Focus: The Battle for Brazil's Divided Electorate
Quaest's Felipe Nunes covers the first round and what's ahead in an October 30 runoff for presidential rivals Luiz Inácio Lula da Silva and Jair Bolsonaro.
New to the podcast? Check out past episodes and learn more about Latin America in Focus, and subscribe on Amazon, Apple, Spotify, Google, Soundcloud, or Stitcher.
---
On October 2, Brazilians split the ballots—and the country—between former President Luiz Inácio Lula da Silva and incumbent Jair Bolsonaro. While Lula earned about 5 percent more of the votes than did the current president, the map of results showed the divide, with Lula winning in 14 states mostly in the north and northeastern Brazil. Bolsonaro took 12 states, dominating southern and midwestern states, as well as the federal district. The division of the vote follows the social and economic inequalities visible in Brazil's geography.
Although Lula won over 57 million votes, marking the highest tally any candidate has ever earned, he still didn't clear the 50 percent threshold required to win the election in the first round. One reason? The voters who didn't make it to the voting booth.
"Lula lost around 13 million votes on election date. And that happened because of the abstention," says Felipe Nunes, CEO of Quaest polling firm, in a conversation with AS/COA Online's Luisa Leme. He explains that the discrepancy between what polls predicted and what happened on election day lies in the Brazilian poll models' difficulty in estimating turnout, which hit 79 percent. Nunes explains that many voters who would have been likely to back Lula simply didn't show up, whereas Bolsonaro supporters were motivated to come to polls.
This result lays out a challenge for Lula, Nunes explains, as abstention tends to be higher during Brazilian runoffs.
The pollster also zeroed in on the main battleground state: Minas Gerais, where he is based. The swing state's voters were divided on October 2, electing Romeu Zema—a Bolsonaro supporter—for governor, but chose Lula for the presidency. Local leadership could be crucial to decide who wins the state in the runoff, explains Nunes, given that Zema could hold sway in a state with more than 800 mayors. "It is not a coincidence that both [Lula and Bolsonaro] will be coming back to Minas a lot during the second round," Nunes says.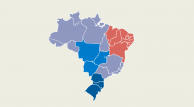 Poll Tracker: Brazil's 2022 Presidential Runoff
After an unexpectedly close first round, see how the race between Lula da Silva and Jair Bolsonaro is shaping up ahead of the October 30 runoff.