Four Things to Know about the Latino Vote
A look at how Hispanics voted in U.S. primaries offers lessons for the 2016 general election.
In the 2016 primary season, Latinos voted at a rate of 2 to 1 for Democratic candidates over Republican ones. Using exit polls and vote counts, AS/COA Online mapped how many Latinos cast ballots for each party, and from that, the rate at which they turned out for both in those states. Here are some key takeaways.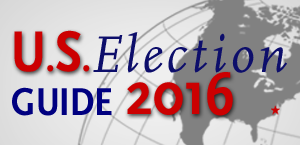 1. Absence of exit polls leaves some big holes.
Of the 50 primary contests, entrance or exit poll data was available in only 27 states, and of those, four had Latino populations that were too small to be statistically significant (1 percent or less). So what we can glean from the 2016 primaries is based only on voting in less than half of states. If the Latino population was uniformly distributed across the country, we could project based on national averages, but we're missing data from states with substantial Latino populations, most notably California, Colorado, New Mexico, and New Jersey.
For the intents and purposes of this article, references to general or national figures refer only to the 23 states for which there was significant poll data on Latino voters.
2. Florida will be critical. Donald Trump lost by double digits there.
No state had more Latino Republicans than Florida. Buoyed for decades by conservative Cuban voters, the Sunshine State is where Latinos turned out most strongly for the GOP this year, with 54.1 percent casting ballots for Republicans. Additionally, Latinos made up 17 percent of all GOP voters; their next biggest presence among the party's voters was in Texas (10 percent), Nevada (8), and New York (5).
According to the numbers, Marco Rubio won his home state's Republican primary with 52 percent of the Latino vote to Trump's 27 percent. The big question will be if the three-quarters of Latino Republicans who didn't vote for Trump stick with the Republican ticket in the general election, or if they end up voting for the Democratic or third-party candidates.
The demographics of Florida's Latino population are unique to the state: although older Cuban and Cuban Americans are traditionally conservative, the younger generation leans Democrat. Additionally, growing populations of Puerto Ricans and Venezuelans in the state are changing its electoral makeup. In 1990, 46 percent of Florida's Latinos were Cuban. In 2014? 31 percent. 
3. Geography counts.
While almost half of Latinos live in California and Texas, states where the results are typically a bygone conclusion, which way they go in battleground states could be decisive. In the battleground state of Pennsylvania, Latinos made up just 5.6 percent of all voters, but turned out more for Democrats there than in any other primary contest: more than 90 percent of the estimated 181,000 Latinos who voted did so for Hillary Clinton or Bernie Sanders. In Illinois, 86 percent of Latinos voted for a Democrat, where the party is hoping to pick up a Senate seat with Tammy Duckworth in a challenge against Republican incumbent Mark Kirk. In Nevada, also a toss-up, Latinos made up an estimated 13.7 percent of primary voters, more than double the national average of 6.6 percent, and caucused by a margin of 4 to 1 for Democrats over Republican candidates.
4. But will they turn out?
Polls show Clinton doesn't need to worry about winning Hispanics' votes on November 8. But she does need to worry about whether they bother to vote. While Hispanics form one of the fastest-growing voting blocs, they also have a turnout rate almost 20 points lower than those of white and black voters. In the 2012 general election, some 12.1 million eligible Latino voters did not cast ballots. Moreover, 45 percent of Latino voters are millennials—more than in any other demographic—and their turnout rate is even lower: 37.8 percent, which is 10 points below their white peers and 17 below black ones.
That said, if they do show up, Hispanics are expected to back Clinton by a nearly 3 to 1 margin, per a new poll by Pew Research. The disparity could widen; even if the Republican National Convention (RNC) gave Trump a boost in polls overall, the same can't be said for the Latino vote. A polling project run throughout the convention by Latino Victory Project, Latino Decisions, and Fusion found that 85 percent of Hispanics said the RNC worsened their views of Trump and Republicans.