Fast Facts about Bernardo Arévalo's Presidential Win in Guatemala
Campaigning on an anti-graft platform, Arévalo won the country's August 20 runoff by a landslide. We share facts about his victory.
Few saw it coming. Before Guatemala held its June 25 general elections, Bernardo Arévalo was one of the country's candidates who polled below 3 percent and his name was not included among the frontrunners. But, as if out of nowhere, he captured more than 11 percent of the vote in the first round and snagged a place in the runoff.
Then, on August 20, 64-year-old Arévalo, a former diplomat and legislator, won the presidency, capturing 58 percent of the votes compared with 37 percent for Sandra Torres, 67, of the Unidad Nacional de la Esperanza (UNE). Arévalo's youth-backed Movimiento Semilla (or Seed Movement) tapped into voter discontent—in April, 83 percent of Guatemalans said the general situation of the country had deteriorated over the past three years.
But if Arévalo's anti-corruption message struck a chord that propelled the center-left candidate to victory, he could face a tough road ahead. Some candidates seen as challenging the status quo were eliminated from competing in the first round, and Arévalo himself faced attempts to block his and his party's eligibility.
It's expected that some of the same powerful political forces that sought to set up obstacles to his candidacy could seek to impede his government.  
For now, AS/COA Online shares numbers and facts about the electoral outcome.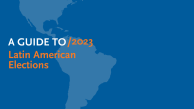 A Guide to 2023 Latin American Elections
AS/COA covers this year's votes in the Americas, from presidential elections to referendums.