Explainer: Who's Who in Ecuador's 2023 Presidential Election? 
Despite the tragic assassination of one candidate, voters will still go to the polls on August 20 to pick a president and members of the National Assembly.
What was already an extraordinary electoral process in Ecuador turned tragic on August 9 when a presidential candidate, Fernando Villavicencio, was assassinated leaving a campaign event in Quito. President Guillermo Lasso has declared a 60-day state of emergency and three days of mourning. 
Villavicencio, a political activist, investigative journalist, and columnist, was one of eight candidates running to replace Lasso in a snap election. Ecuadorans weren't supposed to pick their president until 2025. But in May, Lasso, facing an impeachment threat, used an unprecedented constitutional measure known as the "crossed death."  In doing so, the president dissolved the National Assembly and triggered new elections, set for August 20, to pick a new head of state and the unicameral legislature's 137 seats. 
Crime and violence have been major focuses in the campaign so far—as Ecuador experiences a wave of crime over the past years. The spike was one of the sources of Lasso's low popularity that led to this political crisis. Villavicencio had been outspoken about the threat the violence posed to Ecuador, calling the country a "narco state" and laying out a plan to target the kingpins of gangs and mafias. 
Despite Villavicencio's assassination, the election will proceed on August 20, though at least three presidential contenders have suspended campaigning. Lasso has promised to use the military to guarantee security at polling sites.
For Ecuador's 13.5 million voters, casting a ballot on election day remains mandatory. Average turnout is 74 percent and hit 81 percent in 2021's first-round presidential election. If no contender receives more than 50 percent of the vote—or 40 percent with a 10-point lead—a runoff will take place on October 15. The winners will govern until May 2025, when Lasso's term was meant to end. 
Who are the favorites among the candidates running to replace Lasso? With few polls, it's difficult to conclude. But, with such a short campaign season, big names have the advantage, Carmen Sánchez-Laulhé told Latin America in Focus, with favorites including former legislator Luisa González and businessman Jan Topic.
Learn more about these contenders, as well as information about Villavicencio.
This article was originally published on June 22, 2023, and has since been updated.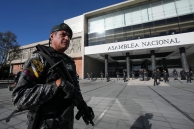 LatAm in Focus: Life after "Crossed Death" in Ecuador
Atrevia's Carmen Sánchez-Laulhé explains what's next for President Guillermo Lasso and the National Assembly as an unprecedented move sparks new elections.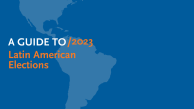 A Guide to 2023 Latin American Elections
AS/COA covers this year's votes in the Americas, from presidential elections to referendums.
Timeline: Guillermo Lasso Dissolves Ecuador's National Assembly
Facing impeachment, the Ecuadoran president used an unprecedented measure that sparks new elections. Get a timeline of the steps that led to this point.