Timeline: Guillermo Lasso Dissolves Ecuador's National Assembly
Facing impeachment, the Ecuadoran president used an unprecedented measure that sparks new elections. Get a timeline of the steps that led to this point. 
This timeline was initially published May 17, 2023 and has since been updated.
Early in the morning of May 17, Ecuador's President Guillermo Lasso made good on a pledge he'd made a few weeks earlier. With his impeachment trial underway and his ouster almost certain, he dissolved the National Assembly. This constitutional measure he used, known as muerte cruzada, or "crossed death," indicates that he would govern by decree until new general elections are held. The next round of elections was previously slated to take place 2025. 
The political showdown caps off a tough past year for the conservative Lasso. The former banker had been challenged by major protests, a stagnant economy, record levels of violence, opposition gains in big mayoral races, the loss of an eight-proposal referendum in February, and low approval. 
Then, a major test came on May 16, when his impeachment trial began. Opposition lawmakers accused Lasso of allowing embezzlement to go unhindered at state oil shipping firm Flopec. He rejected the charge, noting the contract was signed before he took office. 
It appeared likely that the necessary two-thirds of legislators—or 92 of 137 if all representatives were present—would have backed impeachment, given that Lasso faced hostile congressional blocs. One is the Union for Hope, a party linked to leftist former President Rafael Correa (2007–2017), an ardent Lasso critic who lives in Belgium and was sentenced in absentia to eight years in prison for bribery. Pachakutik, an indigenous party, also backed impeachment.
Still, while a March 2023 poll showed that only 22 percent of Ecuadorans had a positive view of the president, the figure for the assembly stood at 9 percent. 
What happens now is unprecedented. While the measure Lasso employed is constitutional, it first appeared in the 2008 version of the Magna Carta drafted during Correa's mandate and has never been used. 
AS/COA Online looks at the events that led up to this pivotal moment.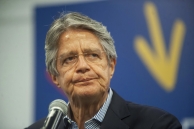 Explainer: The Impeachment Challenge Facing Ecuador's Guillermo Lasso
The opposition-controlled Assembly may have numbers to vote out the president, but the process is not clear cut. AS/COA Online explains.