Explainer: Where Do U.S. Presidential Candidates Stand on Trade?
Trade is one of the few issues in the campaign that does not divide cleanly down party lines.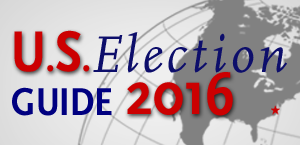 Six weeks into the U.S. primary elections for president, five candidates—two Democrats and three Republicans—remain. When it comes to trade, however, they are not split so cleanly across party lines, as voters from both parties cite protecting American jobs as a top campaign issue. The topic has made strange bedfellows of Donald Trump and Bernie Sanders for their opposition to the Trans-Pacific Partnership (TPP), as well as Sanders and Ted Cruz in opposing the Export-Import Bank.
Below, we look at the stances each holds on the issue.
Candidates
While generally in favor of open markets and free trade, Hillary Clinton has nixed deals in the past over the finer points, especially workers' rights. She's also changed her positions on more than one agreement.
During her 2008 presidential campaign, then-Senator Clinton opposed the U.S.-Colombia free-trade agreement (FTA), but changed her position while in the Obama administration's cabinet, lobbying members of Congress to support the deal, according to her emails released by the State Department. In April 2015, International Business Times reported that her about-face on the issue came at the same time that the Clinton Foundation received sizeable donations from a Canadian oil company with extensive operations in South America, and Colombia in particular. 
Although she voiced support for the North American Free Trade Agreement (NAFTA), a signature deal of her husband, Bill's, presidency in the 1990s, she later called the deal "flawed" and said that she didn't air her objections while first lady because she was part of the administration. During the current campaign, she split the difference, citing experts who say that "some people were helped, some people were hurt." Clinton voted against the Central American Free Trade Agreement (CAFTA) in 2005, but supported FTAs with Chile and Peru.
She supports reauthorizing the Export-Import Bank, which provides financing for U.S. exports.
In October, she came out against the TPP, marking a policy break from the Obama administration. Clinton cited a number of concerns about currency manipulation and concessions to pharmaceutical companies. However, she supported the deal while secretary and said the TPP "sets the gold standard in trade agreements."
Texas Senator Ted Cruz opposes TPP and was one of five Republicans who voted against the 2015 renewal of Trade Promotion Authority (TPA), or the president's ability to "fast-track" negotiations on international agreements, which Congress can approve or deny but cannot amend or filibuster. Though he supports trade deals and believes TPA has helped sign deals, Cruz thinks fast-track "has become enmeshed in corrupt Washington backroom deal-making." He has expressed concerns that trade deals negotiated via fast-track could open the door to changes to federal U.S. immigration laws via special provisions introduced into accord texts. Cruz opposes TPP for similar reasons.
He also opposed the TPA on the grounds that it could open the door to the extension of the Export-Import Bank, which he calls a "classic example of corporate welfare." Cruz was one of 29 senators who voted against reauthorization of the bank in July 2015.
In a March debate, Cruz criticized a proposal of Trump's to raise import taxes, arguing they would create a heavy burden on American taxpayers. Back in 2011, in between terms as Texas solicitor general and senator, Cruz opposed a bill that would impose tariffs on countries like China that keep their currency artificially low in order to gain a trade advantage. He called it a "protectionist" measure and warned that it could spark "a dangerous trade war."
As part of his tax plan, Cruz proposes "border adjustability," in which foreign imports will be subject to a value-added flat tax for businesses, while U.S. exports will not.
Ohio Governor John Kasich declared himself "a free trader" in a Republican debate in January. But he added that the United States needs to "stand up against countries that take away American jobs through trade," which is a position he's held for some time. As a U.S. congressman, Kasich voted in favor of NAFTA in 1993. Kasich also supports the TPP, which in a November debate he described as "critical to us…because there are so many people who are connected to getting jobs because of trade."
However, he sees China as a hindrance to U.S. free-trade policies, as he believes the Chinese government interferes too much in global markets. During a November debate, Kasich said the TPP could be used to potentially create "strategic alliances against the Chinese" that will counter Beijing's influence. He backs strengthening U.S. military presence in the Pacific as a way to "ensure freedom of navigation for the $5.3 trillion in annual trade that passes through the Western Pacific." 
Kasich also supports dismantling the Commerce Department—which he calls "a Franken-agency"—as a means of reducing the federal budget and bureaucracy. He further proposes to transfer the department's International Trade Administration to other agencies; trade promotion and cybersecurity efforts would go to the State Department, while trade enforcement and compliance would go to the International Trade Commission. 
In Congress, Bernie Sanders has been a vocal opponent of TPP, describing U.S. trade policy over the last several decades—and NAFTA, in particular—as a "disastrous" contributor to the decline of the U.S. middle class, loss of countless jobs, and the undermining of U.S. democracy. He voted against NAFTA in 1993 while a U.S. congressman, and he pledges to reverse the deal if he becomes president. 
In April 2015, days before launching his bid for the Democratic nomination, he joined labor leaders at a rally against the TPP. He is also one of 12 senators who signed a letter expressing opposition to TPA. 
Historically, he's been a staunch opponent of guest-worker programs, arguing that they take away American jobs. But he's been less vocal about this stance during the campaign as he promotes a more progressive immigration agenda, focusing instead on more stringent worker protections.
Sanders, an independent in the U.S. Senate, was the only non-Republican to vote against the reauthorization of the Export-Import Bank in July 2015. 
He regularly criticizes Clinton for her past support of NAFTA and TPP, and her changes of heart on trade. Clinton, for her part, has defended her positions as more considered than those of Sanders, saying he is "reflexively against" any international deals.
Beyond the U.S.-China economic relationship, businessman Donald Trump's trade policies often focus on the country's trade deficit with Mexico. He suggested a 35 percent tax on all Mexican auto imports in his campaign launch speech, and says he would renegotiate NAFTA in a bid to lower the trade gap.
Trump generally opposes trade deals, and calls the TPP "an attack on America's business." He believes the deal will make foreign products cheaper, thus hurting U.S. firms. But Trump's knowledge of the issue was put into question in a debate last November, when he said, in response to a question on TPP: "It's a deal that's designed for China to come in, as they always do, through the back door and totally take advantage of everyone." Senator Rand Paul (R-KY) pointed out that China is not part of TPP. The next day, Trump responded with a tweet saying: "I never said that China was in the bad TPP trade deal but that China would come in the back door at a later date."
Trump also called NAFTA "a disaster," and chastised Kasich in a March debate for having voted in favor of it.