Explainer: U.S. Sanctions in Latin America
As Russia faces harsh sanctions for invading Ukraine, we review U.S. economic restrictions on Cuba, Nicaragua, and Venezuela.
One major global response to Russia's invasion of Ukraine is a flurry of sanctions. The United States, the EU, and other allied nations are blocking the Kremlin, certain key businesses, and some individual citizens from global financial systems, trade, and travel.
The Russian economy responded by taking a nosedive. And the ripple effect is already affecting countries in Latin America, both because of Russia's overall share of global economy and because Moscow supplies the region with key products like wheat, fertilizer, and oil.
Latin America is no stranger to U.S. sanctions, given that three countries in the region—Cuba, Nicaragua, and Venezuela—currently face them. Cuba and Venezuela are among five countries worldwide on which the U.S. maintains broad-based sanctions, meaning nearly all transactions are regulated in some capacity. Nicaragua's sanctions solely target individuals and government entities. All three of these countries are close allies to Moscow, in part because the Kremlin helps them to work around U.S. sanctions.
Despite Venezuela's ties to Russia, members of President Joe Biden's administration traveled to Caracas on March 5 to negotiate with the regime of de facto President Nicolás Maduro. Part of the agenda included the possibility of lifting some of the broad sanctions placed on Venezuela's oil sector in 2019, presumably to help ease the global supply contraction on oil production, as Biden aims to control rising gas prices.
In the United States, sanctions are requested by Congress, actualized through a presidential executive order, and executed by the U.S. Treasury Department. The Treasury's Office of Foreign Assets Control (OFAC) enforces sanctions and issues penalties on violators.
What are the existing sanctions on Venezuela and its oil? And what do other sanction regimens look like in the region? AS/COA Online looks at the state of Washington's sanctions in Latin America in order of the size of each country's economy.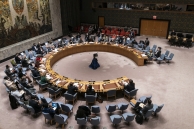 Latin American Leaders React to Russia's Invasion of Ukraine
See what has been said by countries like UN Security Council members Brazil and Mexico, as well as Moscow allies Cuba and Venezuela.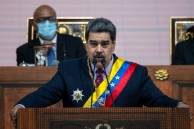 Reactions: U.S. Delegation Meets with Maduro Administration
Russia's increasing influence in the hemisphere and a spike in oil prices after the invasion of Ukraine have led to calls for negotiations.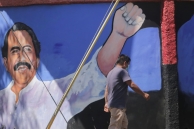 Nicaragua Has Now Become an Electoral Dictatorship
By denying the Ortega regime of the legitimacy it seeks, Washington and the international community can discourage other budding dictators, writes AS/COA's Eric Farnsworth for Univision.