Explainer: Paraguay's 2023 Elections
Can the opposition capitalize on discontent over Colorado Party scandals in the April 30 presidential vote? AS/COA Online covers candidates and issues.
This explainer was originally published on March 23 and has since been updated.
Latin America has been beset by an anti-incumbency wave in recent years, but Paraguay could test that trend on April 30. That's when voters will decide whether the ruling Colorado Party will remain in power. Polling, charted below, indicates a tight competition.
Current President Mario Abdo Benítez cannot run for reelection and former Finance Minister Santiago Peña will be Colorado Party's candidate. The party has dominated Paraguayan politics for decades, operating under one-party rule during Paraguay's dictatorship and then holding the presidency for all but five years since the country's return to democracy. Now, some of its top figures are ensnared in major scandals linked to organized crime and have even been sanctioned by the United States.
With that, the opposition Concertación coalition will try to convince voters to reject the status quo, hoping its nominated candidate, Efraín Alegre of the Authentic Radical Liberal Party (PLRA), can ride voter frustration to the presidency. Some 70 percent of Paraguayans have said that their country requires profound changes, per a June 2022 poll. Polls show Alegre holding a narrow lead.
With no runoff in Paraguay, the president will be chosen on April 30 with a plurality of votes, as will all 80 deputies and 45 senators in Congress, 17 governorships, and all state assembly seats. Legislators, unlike presidents, can run for reelection. The next president will be inaugurated on August 15, 2023 for a five-year term. Voting is compulsory in Paraguay for the 5 million registered voters between 18 and 75, and Paraguayans living abroad can vote, though to do so is a complicated procedure. Of the 2 million Paraguayans in Argentina, about 31,000 are registered.
 AS/COA explores the election, including major issues, parties, candidates, and polling.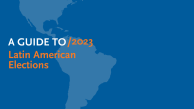 A Guide to 2023 Latin American Elections
AS/COA covers this year's votes in the Americas, from presidential elections to referendums.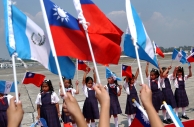 LatAm in Focus: The China-Taiwan Tussle in the Americas
Florida International University's Leland Lazarus covers Taiwan's regional ties and what elections in Paraguay and Guatemala mean for its global standing.