Covid Check-in: Chile's Coronavirus Paradox
Despite having the highest vaccination rate in Latin America, the country faces lockdown as a third wave of infections hits.
Chile has captured global attention with its vaccination campaign: it has the fourth highest vaccination rate per capita in the world with just over 47 doses administered per 100 Chileans. It met its goal of vaccinating about 25 percent of its population of 19 million by the end of March—a week ahead of schedule—and is on track to vaccinate 80 percent by July. But Chile shouldn't count its chickens before they hatch, as the country's vaccination campaign coincides with a record high of new daily confirmed cases since the pandemic first hit.
Timeline: Tracking Latin America's Road to Vaccination
AS/COA Online covers major developments and Covid-19 vaccine rollouts as countries strive to return to normalcy.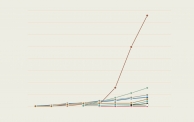 Charting Latin America's COVID-19 Vaccine Rollout
Amid global demand for doses, AS/COA Online charts the region's progress when it comes to immunizing citizens against the coronavirus.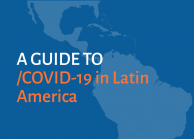 A Guide to COVID-19 in Latin America
Get resources on government responses, vaccine rollouts, and health impacts in the region.