Registration: 5:30 p.m. to 6:00 p.m.

Panel Discussion: 6:00 p.m. to 7:30...

Live broadcast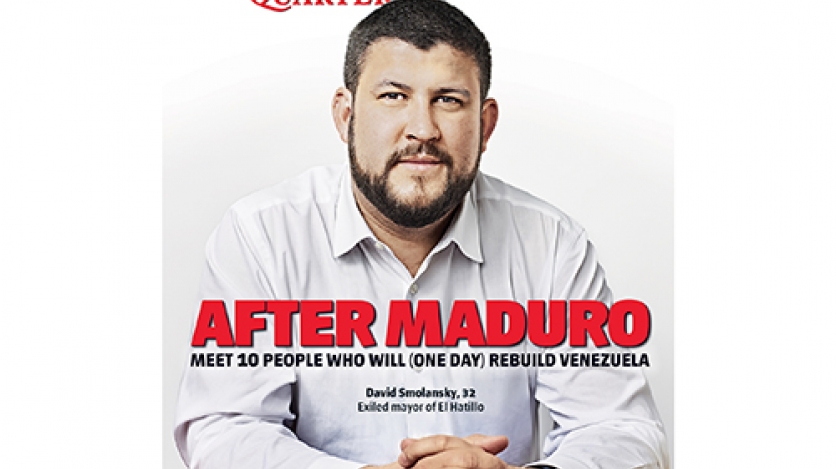 What's Next in Venezuela after May 20?
AQ will launch its new issue May 14 with a discussion on the political and economic situation in Venezuela and what's needed to rebuild the country after the May 20 elections.
Overview
Follow the conversation on Twitter: #AfterMaduro | @AmerQuarterly
¿QUÉ PASARÁ EN VENEZUELA DESPUÉS DEL 20 DE MAYO?
Días previos a las elecciones del 20 de mayo, tres destacados panelistas analizarán el panorama económico y político en Venezuela—y qué esperar para el futuro del país. ¿Impondrán sanciones más fuertes el gobierno de los Estados Unidos y la Unión Europea? ¿Por cuánto tiempo podrá el gobierno venezolano sostenerse en medio de la hiperinflación y el desplome de la producción petrolera? Únete a Americas Quarterly en el lanzamiento de la más reciente edición de nuestra revista impresa, "Reconstruyendo Venezuela", con una mirada profunda a la crisis actual, y los pasos necesarios para superarla. Los temas a debatir incluyen la crisis humanitaria, los conflictos que dividen a la oposición política, el asediado sector petrolero, y mucho más.
 WHAT'S NEXT IN VENEZUELA AFTER MAY 20?
Just days before Venezuela's May 20 election, three outstanding panelists will analyze Venezuela's political and economic outlook—and what's next for the country. Will the United States and the EU impose tougher sanctions? How long can the government sustain itself through hyperinflation and plummeting oil production? Join Americas Quarterly for the launch of our new issue, "Rebuilding Venezuela," which takes an in-depth look at the current crisis, and what's necessary to fix it. Topics will include the humanitarian crisis, the divided political opposition, the beleaguered oil sector, and more.
This event will be in Spanish, with English interpretation available.
Speakers:
Asdrúbal Oliveros, Director and Partner, Ecoanalítica @aroliveros
Luisa Palacios, Managing Director for Latin America, Medley Global Advisors
David Smolansky, Exiled former Mayor of El Hatillo, Venezuela @dsmolansky
Brian Winter, Editor-in-Chief of Americas Quarterly; Vice President of Policy at AS/COA (moderator) @BrazilBrian
 
Entry is complimentary for AS, COA members and YPA Silver members, as well as current Americas Quarterly subscribers, who should email AQevents@as-coa.org to RSVP.
For others, admission is $20, which includes a special discounted one-year subscription to Americas Quarterly.
Event Information: Emilie Sweigart | esweigart@as-coa.org | 1-212-277-8390
Sponsorship Opportunities: Sarah Bons | sbons@as-coa.org | 1-212-277-8392
Press: mediarelations@as-coa.org
Cancellation: Please contact Juan Serrano-Badrena at jserrano@counciloftheamericas.org before 3:00 p.m. on Friday, May 11.
Visit AQ Online: AmericasQuarterly.org
Follow AQ on Facebook: facebook.com/AmericasQuarterly
Follow AQ on Twitter: twitter.com/AmerQuarterly