5th Annual AS/COA Women's Hemispheric Network Forum in Miami
Americas Society
/
Council of the Americas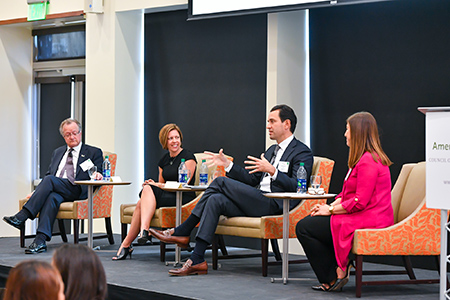 Follow the network on Twitter via @ASCOA and #womenASCOA.
We are delighted to invite you to the 5th Annual AS/COA Women Hemispheric Network (WHN) Forum in Miami. This year's focus will be on fostering diversity through leadership at all levels. This afternoon forum will convene a stellar lineup of speakers, featuring a panel discussion, keynote remarks, and an interactive table discussion activity, followed by a networking reception. 
Learn about the Women's Hemispheric Network. | Watch videos from last year's forum.
Confirmed speakers:
This program is free and open to the public. 
There are still opportunities to support this initiative by becoming a sponsor or table leader. Please contact VVazquez@as-coa.org for more information. 
Program Information & Sponsorship Opportunities: Vanessa Vazquez | VVazquez@as-coa.org | 1-305-779-4816
Press Inquiries: MediaRelations@as-coa.org | 1-212-277-8384| 1-212-277-8333
Agenda
2:45 to 3:20 p.m. – Registration and Networking
3:20 to 3:25 p.m. – Welcome Remarks
Nancy Anderson Bolton, Senior Director, Americas Society/Council of the Americas
3:30 to 3:40 p.m. – Opening Remarks
Dr. Felicia Knaul, Director, University of Miami Institute for Advanced Studies of the Americas
Susan Segal, President & CEO, Americas Society/Council of the Americas
3:45 to 4:45 p.m. – Panel Discussion: Fostering Diversity through Leadership
Alejandra Bailon, Vice President, Human Resources Latin America, Medtronic (Moderator)
Alberto Gavazzi, President, Latin America and the Caribbean, Diageo
Patricia Miron, General Manager, Marketing & Operations, Microsoft Latin America
Dr. John Quelch, Dean, Miami Business School, University of Miami
4:45 to 5:05 p.m. – Keynote Speaker: Lessons in Leadership
Dr. Susan Clancy, Research Director, Center for Collaborative and Women's Leadership, INCAE Business School
5:05 to 6:00 p.m. – Table Discussions: Promoting Gender Parity
Alejandra Bailon, Vice President, Human Resources Latin America, Medtronic
Lin Cherry, SVP, General Counsel, HBO Latin America
Lourdes Dieck-Assad, VP of Hemispheric & Global Affairs, University of Miami
Carmen Gonzalez, Managing Director, Sanfeliu, Inc.
Tracey Haynes, Senior Human Resources Manager, Microsoft Latin America
Yosbel Ibarra, Co-Managing Shareholder, Greenberg Traurig, P.A.
Giannina Marin, Senior Corporate Counsel, American Tower Corporation
Patricia Miron, General Manager, Marketing & Operations, Microsoft Latin America
Laura Quevedo, HR Director, Latin America & Caribbean, Diageo
Allison Stuckless, Associate Banker, JPMorgan Chase Bank
6:00 to 7:00 p.m. – Reception & Networking Session