9:30 am to 12:00 pm ET

Live broadcast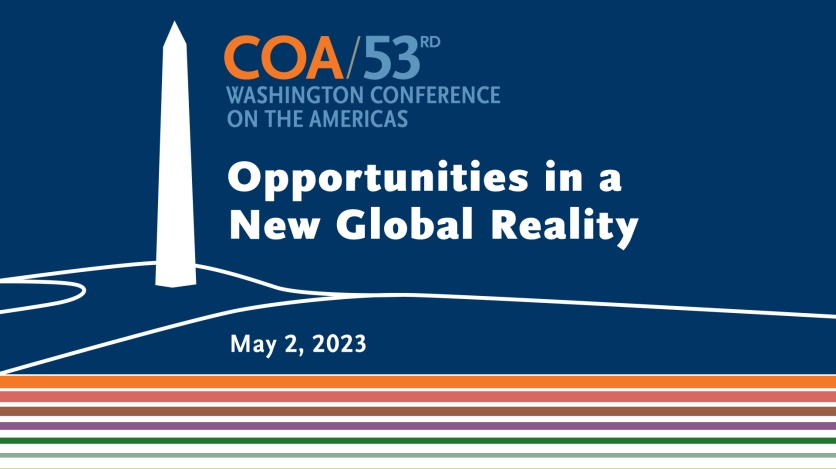 53rd Annual Washington Conference on the Americas
Council of the Americas will hold its premier conference in Washington centered on the theme "Opportunities in a New Global Reality."
Overview
Please join us on the morning of May 2, 2023, for the 53rd annual Washington Conference on the Americas: Opportunities in a New Global Reality. We are excited to announce that for the first time ever, this year's conference will be free to attend for all members and will take place at the Organization of American States from 9:30 a.m. to 12:00 p.m. ET. A separate keynote event for sponsors will conclude the program. 
The Washington Conference on the Americas is the premier event on the region. Each year, this conference offers an excellent opportunity to hear from the most senior-level officials. It also offers participants the chance to engage with business and policy leaders, members of the diplomatic community, and special invited guests from throughout the hemisphere. Given the many currents and dramatic shifts shaping the region, this year's conference is not to be missed!
Details on this year's conference:
This is a member-only event for in-person attendees. 
A virtual option will be available for non-members and members who are unable to join the event in-person in Washington, DC.
Due to the generosity of our sponsors, there is no cost to attend in 2023.
The conference agenda will incorporate fireside chat interviews, moderated panel discussions, and opportunities for networking with senior leaders from the private and public sectors.
For sponsors, the conference will include exclusive embassy programs, private meetings with senior officials, and the keynote event.
Corporate sponsorship opportunities are still available. Contact Maria Despradel at mdespradel@as-coa.org for more information.
The speakers list is in development and will be released shortly.
We hope you will join us for what promises to be another outstanding program. We encourage you to register to attend early. To attend in person, register with Jorge Merino at wca@as-coa.org. We look forward to seeing you on May 2!
Press inquiries: mediarelations@as-coa.org
Join the discussion on Twitter #2023WCA | @ASCOA
Learn more about past editions of the Washington Conference on the Americas. Learn more about the conference by reading last year's report.