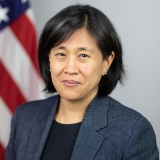 Katherine Tai
United States Trade Representative
Ambassador Katherine Tai was sworn in as the nineteenth U.S. Trade Representative on March 18, 2021. As a member of the President's cabinet, Ambassador Tai is the principal trade adviser, negotiator, and spokesperson on U.S. trade policy.
Prior to her unanimous Senate confirmation, Ambassador Tai spent most of her career in public service focusing on international economic diplomacy, monitoring, and enforcement. She previously served as chief trade counsel and Trade Subcommittee staff director for the House Ways and Means Committee in the U.S. Congress. In this capacity, she played a pivotal role in shaping U.S. trade law, negotiations strategies, and bilateral and multilateral agreements, including the recently renegotiated United-States-Mexico-Canada Agreement.
Ambassador Tai is an experienced World Trade Organization (WTO) litigator. She previously developed and tried cases for the Office of the U.S. Trade Representative, eventually becoming the chief counsel for China Trade Enforcement. Before transitioning to federal service, she practiced law in the private sector, clerked for district judges, and taught English in Guangzhou, China.
Ambassador Tai earned a bachelor's in history from Yale University and a JD from Harvard Law School. She is fluent in Mandarin.