Registration: 7:00 a.m. to 8:00 a.m.

Conference: 8:00 a.m. to 3:30 p.m....

Live broadcast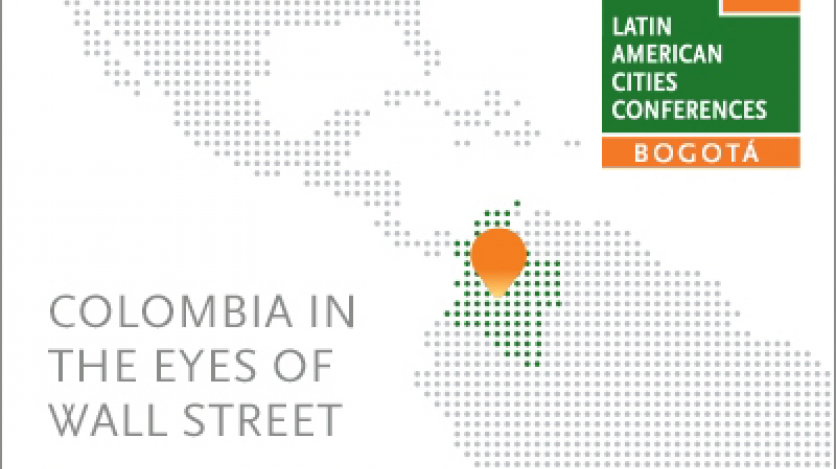 2017 Latin American Cities Conferences: Bogotá
AS/COA's twenty-first annual conference in Bogotá, focusing on political and economic outlooks in the wake of the peace deal, takes place June 7.
Overview
COLOMBIA IN THE EYES OF WALL STREET

Follow the discussion on Twitter: #COLWallSt | @ASCOA
The implementation of the peace accord with the FARC negotiated by the administration of President Juan Manuel Santos has dominated Colombia's political agenda. International investors have closely followed the negotiatons' progress as they hope for a more favorable security environment in Colombia. Attention is now shifting toward the 2018 presidential election, which will define the direction of post-conflict Colombia. The country's economic outlook remains positive as it battles low commodity prices and inflation, but structural reforms will be needed to sustain economic growth.
AS/COA's twenty-first conference in Bogotá, in partnership with Fedesarrollo and ANIF, will look at the country's economic and political forecasts, as well as its trade agenda, by bringing together Wall Street analysts and investors, key government officials, and representatives from trading partners.
Confirmed Speakers:*
Mauricio Cárdenas, Minister of Finance @MauricioCard @MinHacienda (Download his presentation.)
Fernando Cepeda, Former Interior Minister and Political Analyst
Sergio Clavijo, Director, ANIF @ANIFCO (Download his first presentation.) (Download his second presentation.)
Iván Duque, Senator, Democratic Center Party @IvanDuque (Download his presentation.)
Richard Francis, Director of Sovereign Ratings, Fitch Ratings @FitchRatings @FitchLatAm (Download his presentation.)
Mauricio Garrón, Director of Analysis and Energy Strategies, CAF – Development Bank of Latin America @AgendaCAF (Download his presentation.)
Munir Jalil, Director, Chief Economist for the Andean Region, Citi @munirjalil
Marta Lucia Ramírez, former Minister of Defense @mluciaramirez (Download her presentation.)
Leonardo Villar, Executive Director, Fedesarrollo @Fedesarrollo (Download his presentation.)
Adriana La Rotta, Senior Director of Media Relations, Americas Society/Council of the Americas @adrianalarotta
*Additional speakers to be confirmed.
Registration Fee: $220 for AS and COA members; $260 for non-members. Complete this form to register. Prior registration is required.
Note: This conference will be conducted entirely in Spanish.
Event Information: Cara Caponi | ccaponi@as-coa.org| 1-212-277-8368
COA Corporate Membership Information: Mila Fontana | mfontana@as-coa.org | 1-212-277-8331
Note: To view a list of COA corporate members, please click here.
AS Individual Membership Information: Felipe Marin | fmarin@as-coa.org | 1-212-277-8342
Press Inquiries: mediarelations@as-coa.org
Cancellation: Please contact Juan Serrano-Badrena at jserrano@counciloftheamericas.org before 3:00 p.m. on June 6.
Sponsorship Opportunities: Ana Calderon | acalderon@as-coa.org | 1-212-277-8358
In collaboration with:
Agenda
Agenda
Note: All times are in local Bogotá time (GMT -5), one hour behind Eastern Time.
7:00 a.m. — Registration
8:00 a.m. — Opening Remarks
Adriana La Rotta, Senior Director, Americas Society/Council of the Americas
8:15 a.m. — Fiscal Perspectives and Structural Reforms
Mauricio Cárdenas, Minister of Finance
9:00 a.m. — Effects of International Volatility on the Colombian Economy
Leonardo Villar, Executive Director, Fedesarrollo
9:45 a.m. — Launch of the Luis Carlos Sarmiento 2017–2018 Public Research Award
10:00 a.m. — Coffee Break
10:30 a.m. — Perspectives on Colombia's Macro-Financial Performance
Sergio Clavijo, Director, ANIF
11:15 a.m. — Panel: Colombia in the Eyes of Wall Street
Mauricio Garrón, Director of Analysis of Energy and Strategies, CAF
Richard Francis, Director of Sovereign Ratings, Fitch Ratings
Munir Jalil, Chief Economist for the Andean Region, Citi
Adriana La Rotta, Senior Director, Americas Society/Council of the Americas (moderator)
12:15 p.m. — Lunch
2:00 p.m. — Electoral Probability Analysis: Colombia 2018
Sergio Clavijo, Director, ANIF
2:30 p.m. — Panel: Structural Reforms 2018–2022
Iván Duque, Senator
Marta Lucia Ramirez, former Minister of Defense
Fernando Cepeda, Former Interior Minister and Political Analyst
Sergio Clavijo, Director, ANIF (moderator)