Registration: 8:30 a.m. to 9:00 a.m. 
Conference: 9:00 a.m. to 12:00 p.m. (8...

Live broadcast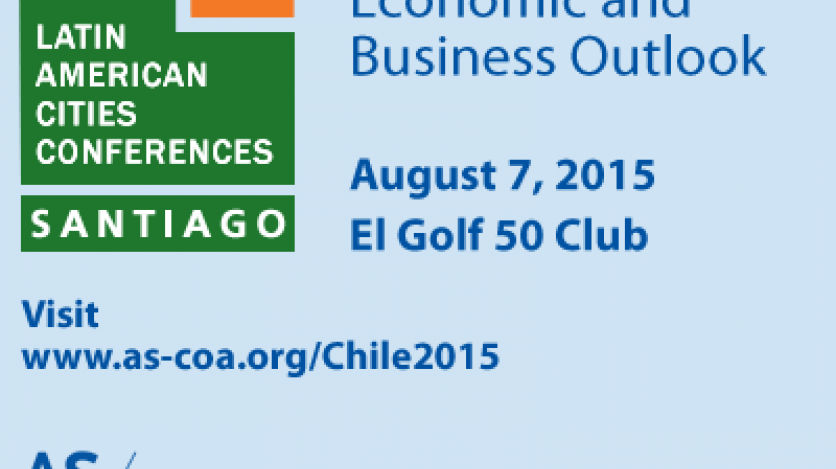 2015 Latin American Cities Conferences: Santiago
Join us for our annual conference in Chile, this time exploring Santiago's economic panorama. 
Overview
CHILE: ECONOMIC AND BUSINESS OUTLOOK

Follow the discussion on Twitter: @ASCOA | #PanoramaCL
In collaboration with AmCham Chile; Bolsa de Santiago; Cámara Nacional de Comercio, Servicios y Turismo de Chile (CNC); Comité de Inversiones Extranjeras (CIEChile); ComunidadMujer; Corporación de Fomento de la Producción (CORFO); Endeavor Chile; Fundación Imagen de Chile; Grupo Liderazgo & Foro Liderazgo; Harvard University's David Rockefeller Center for Latin American Studies; ProChile and Sociedad de Fomento Fabril (SOFOFA) 
2014 was significant for Chile, marked by political, educational, social, and fiscal reforms amid decelerating economic growth rates linked to falling commodity prices and decreasing private consumption. However, as one of Latin America's consistently fastest-growing economies, Chile saw positive economic signals in the first quarter of 2015, with GDP growth estimated to reach 2.5 percent this year. This recovery can be attributed to expansive monetary and fiscal policies, along with rising private investment and domestic demand. The markets and private sector view recent changes in President Michelle Bachelet's cabinet as a positive step towards a pro-growth agenda.
With an eye to these issues, Americas Society/Council of the Americas, in partnership with Chile's Ministry of Foreign Affairs, will hold a half-day conference in Santiago on August 7. Convening key government officials and private-sector leaders spanning various industries, the conference's speakers will address Chile's trade agenda, business outlook, economic growth forecast, and energy sector.
Confirmed Speakers:
Luis Felipe Céspedes, Minister of Economy, Development and Tourism of Chile (Download his presentation)
Heraldo Muñoz, Minister of Foreign Relations of Chile
Máximo Pacheco, Minister of Energy of Chile (Download his presentation)
Carlos Gutierrez, Former Secretary, U.S. Department of Commerce and Chair, Albright Stonebridge Group
Luis Felipe Cerón, CEO, AES Gener S.A.
Luca D'Agnese, CEO, Enersis S.A.
Eduardo Gutiérrez Gómez, General Manager, IBM Chile
Fernando Larrain Aninat, Director of Development, Diego Portales University
Fernando Lopez Iervasi, Country Director, Google Chile
Hamilton Moss de Souza, Vice President of Energy, CAF
Carlos Murillo, Country Manager, Pfizer Chile S.A.
Susan Segal, President & CEO, Americas Society/Council of the Americas
Carlos Vargas, Managing Director, Head of Emerging Markets Origination, Mizuho Securities USA
Note: This event is free of charge. Prior registration is required.
Event Information: Mercedes Laxague | mlaxague@as-coa.org | 1-212-277-8382
Sponsorship Opportunities: Ana Gilligan | agilligan@as-coa.org | 1-212-277-8364
COA Corporate Membership Information: Monica Vieira | mvieira@as-coa.org | 1-212-277-8344
Press Inquiries: Adriana La Rotta | alarotta@as-coa.org | 1-212-277-8384
Agenda
Agenda
Download a PDF of the agenda.
Baje la agenda en español.
8:30 – 9:00 a.m.  Coffee and Registration
9:00 – 9:05 a.m.  Opening Remarks
Susan Segal, President and CEO, Americas Society/Council of the Americas
9:05 – 9:20 a.m.  Featured Speaker
Heraldo Muñoz, Minister of Foreign Affairs of Chile  
9:20 – 9:35 a.m.  Featured Speaker
Carlos Gutierrez, Former U.S. Secretary of Commerce
9:35 – 9:50 a.m.  Featured Speaker
9:50 – 10:30 a.m.  Panel: Business Environment in Chile
Eduardo Gutiérrez Gómez, General Manager, IBM Chile
Fernando López Iervasi, Country Director, Google Chile
Carlos Murillo, Country Manager, Pfizer Chile S.A.
Fernando Larrain Aninat, Director of Development, Diego Portales University (moderator)
10:30 – 10:45 a.m.  Featured Speaker
10:45 – 11:25 a.m.  Panel: Opportunities and Challenges in Chile's Energy Sector
Luis Felipe Cerón, CEO, AES Gener S.A.
Luca D'Agnese, Head of Latin America Region, Enel
Carlos Vargas, Managing Director and head of Emerging Markets, Mizuho Securities USA
Hamilton Moss de Souza, Vice President of Energy, CAF (moderator)
11:25 – 11:30 a.m.  Closing Remarks
Susan Segal, President and CEO, Americas Society/Council of the Americas
11:30 – 12:00 p.m.  Coffee and Networking Session
Watch & Listen