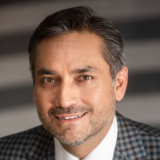 Carlos Murillo
Regional President, Pfizer Latin America
Carlos Murillo has been regional president for Pfizer Latin America since December 2020, leading the business operations of the company in the region. Carlos is also vice-chair of the Brazil-U.S. Business Council Board of Directors, a member of the Board of the Council of the Americas, and a member of the Executive Board of FIFARMA.
Prior to that role, he served as country manager in Brazil. Carlos' leadership experience is extensive as, previously, he was country manager for Chile and operations director for Latin America.
Carlos has a proven executive management track record and almost 20 years of experience driving business and transformational processes in the pharmaceutical industry. Additionally, he holds an MBA from Arizona University.