Weekly Chart: Five Things to Know about the Latino Vote ahead of November 8
From outreach to turnout, here's what you need to know about the Latino voting bloc, which could play a decisive role in the 2016 election outcome.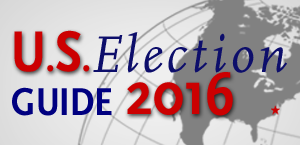 With just one week until Election Day, polls may show the U.S. presidential race getting closer, but the same can't be said of how the candidates are doing with the Latino vote. Republican nominee Donald Trump's unpopularity among Latino voters keeps growing, with only 14 percent of Latinos likely to vote for him, per an October 30 Latino Decisions poll. In comparison, Democratic candidate Hillary Clinton polls at 74 percent with the voting bloc. While Trump's portion of the vote has dropped from 18 percent in early September, Clinton's rose from 71 percent.
A record number of more than 16.2 million Latinos are registered to vote in this year's election, up from 13.7 million in 2012. As was the case in 2012, Latinos are poised to play a crucial role in the outcome.
AS/COA Online takes a look at the latest poll results and considers five things to bear in mind about the Latino vote.
1. Latinos view outreach from the Democratic Party more favorably.
Despite the boom in the number of registered Latino voters, 56 percent of Latinos said they had not been contacted by any political party or organization about registering to vote, according to the latest Latino Decisions poll. Of the 44 percent of Latinos who were, over half reported that outreach came from the Democratic Party and only a quarter that it came from Republicans.
Not only that, but Latinos were more than twice as likely to consider Republican outreach as hostile this year compared to during the 2012 election cycle.
2. Latino turnout is expected to increase.
While there are limits to how much early voting can predict Election Day results, numbers indicate that Latinos could turn out in record numbers.
Some 20 percent of Latinos have already voted, either by absentee, mail, or early voting, according to the latest Latino Decisions poll.
In total, some 13.1 million Latinos are expected to cast a vote this election, which would constitute a 17 percent increase in the number voting and an 8.7 percent increase in Latinos' share of the vote nationwide. All six states with the largest portion of Latino voters—Arizona, California, Florida, Nevada, New Mexico, and Texas—will likely see more ballots cast by this bloc. California alone is expected to see a 22 percent increase in the number of Latino voters when compared to 2012.
3. Clinton could fare even better with the Latino vote than Obama did in 2012.
The 2012 presidential election was the first race in which Latinos made up over 10 percent of the electorate. At the time, the bloc was a factor in President Barack Obama's reelection, given that 71 percent of Latinos voted for him compared to just 27 percent for Republican candidate Mitt Romney.
But polls indicate Clinton may fare even better, with Trump's rhetoric—from his now-infamous promise to build a U.S.-Mexico border wall to his insults of Venezuelan former Miss Universe Alicia Machado—alienating Latino voters. As of October 30, 74 percent of Latinos said they intend to vote for Clinton.
4. Latinos trust Clinton more than Trump when it comes to handling major issues.
As of the latest Latino Decisions poll, the largest portion (23 percent) of Latinos thought improving wages was the most important issue facing their community, ranking it above creating jobs (21 percent) and passing comprehensive immigration reform (20 percent).
On a state level, Latinos' ranking of issues varies. For example, in California and Nevada, passing immigration reform is the most pressing concern, while in Florida it's combatting ISIS, and in Texas it's lowering the cost of healthcare.
As charted below, Latino Decisions also asked respondents to compare the candidates on how they'd handle the economy, terrorism, women's issues, and Latin American relations.
5. Trump's low approval with Latinos could hurt Republicans in down-ballot races.
Thirty-four Senate seats are up for grabs on November 8, ten of which are currently held by Democrats and 24 by Republicans.
Democrats need to pick up a net of four seats to gain control of the Senate.
Trump's unpopularity among Latino voters has generated problems for Senate candidates in states like Florida, where the race is considered a toss-up. Though Republican and incumbent Marco Rubio is polling higher among Latino voters than Democrat Patrick Murphy, the concern is that Florida's Republican Latinos are too put off by Trump to turn out and vote. Trump lost the Latino vote by double digits to Rubio in the Sunshine State's Republican presidential primary in March when the Cuban-American senator was still in the race.