Poll Tracker: Costa Rica's 2022 Presidential Runoff
See where economist Rodrigo Chaves and former President José María Figueres stand in CIEP polls ahead of the April 3 vote.
Two candidates are vying for president in Costa Rica. They're both right-leaning globalists with established professional trajectories. One has already had the job, in fact, and the other burnished his career with the World Bank.
And both are being dogged by events from their past. At a time when electoral enthusiasm and turnout run low, voters are less likely to be positively motivated and how much either scandal sticks to a candidate could end up being decisive. On that front, the candidate whose events took place largely outside of Costa Rica appears to have an edge.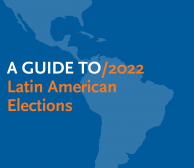 Guide to 2022 Latin American Elections
AS/COA covers this year's votes in the Americas, from presidential elections to referendums.