Costa Rica's Election Moves On to Runoff amid Low Turnout
Economist Rodrigo Chaves outperformed polls to place second and secure a spot against former President José María Figueres in the April 3 runoff.
A candidate who'd been polling around 5 percent surged more than 10 points in Sunday's first-round election to snag a spot in Costa Rica's presidential runoff.
That's been a repeat story in the country's last three elections, the latest of which was held on February 6. With 88.2 percent of votes counted, José María Figueres of the National Liberation Party (PLN) stands as the clear winner of the first round with 27.3 percent of votes and is in a solid position to contend for a second term almost 30 years after his first in 1994–1998. His competitor appears to be Rodrigo Chaves of the Social Democratic Progress Party (PPSD), who has 16.7 percent of votes. The two will face each other in an April 3 runoff.
Coming in third was the New Republic's (PNR) Fabricio Alvarado, who stands at 14.8 percent of votes, well below the 25.0 percent he won in the 2018 first round after riding a wave of conservative opposition to same-sex marriage. Figueres won five of Costa Rica's seven provinces and Alvarado two.
Next were Lineth Saborío of the Social Christian Unity Party (PUSC) with 12.4 percent of the vote, Eli Feinzaig of the Progressive Liberal Party (PLP) at 12.3 percent, and José María Villalta of the Broad Front (FA) with 8.7 percent. The other 19 candidates—including the nominee from the outgoing administration's party—all got less than 1 percent each. 
The center-right Chaves is arguably better positioned to pick up votes from Alvarado and Saborío on the right and center right, while Figueres, whose party is traditionally centrist with a slight leftist tilt, might be able to pick up more of Feinzaig and Villalta's left-wing supporters—that is, if they turn out in the second round.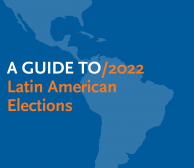 Guide to 2022 Latin American Elections
AS/COA covers this year's votes in the Americas, from presidential elections to referendums.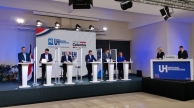 A Look at Costa Rica's 2022 General Elections
Amid concerns about debt and unemployment, Ticos vote for a president and legislators on February 6. Learn more and see what the polls say.