Poll Tracker: Contenders for Mexico's 2024 Presidential Vote
Two women, Claudia Sheinbaum and Xóchitl Gálvez, are competing for the presidency. See polls ahead of the June 2, 2024 election.
This tracker was originally published on June 15, 2023 and has since been updated.

Who will succeed Mexican President Andrés Manuel López Obrador? We won't find out until the June 2, 2024 elections. But in November, the pre-candidate campaigns kicked off. 
The frontrunner for López Obrador's governing Morena coalition is former Mexico City Mayor Claudia Sheinbaum. She will face Senator Xóchitl Gálvez, the pre-candidate for the opposition Frente Amplio por México (FAM)—the main opposition alliance, made up of the National Action Party (PAN), the Institutional Revolutionary Party (PRI), and the Party of the Democratic Revolution (PRD). 

One presidential hopeful, Nuevo León Governor Samuel García of the Movimiento Ciudadano (MC) party, withdrew his candidacy after heated controversy surrounding his moves to take temporary leave of his position. As such, he still appears in polls, although the MC is expected to name a new aspirant in January 2024.
We track what the polls tell us about how voters are viewing the candidates and more.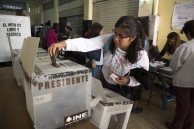 Mexico Elects: What's in Play in the Country's Massive Elections?
More than 20,000 posts—presidency included—are up for grabs on June 2, 2024. AS/COA Online maps out key dates, voters, and the seats at stake.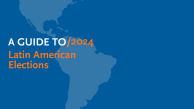 A Guide to 2024 Latin American Elections
AS/COA covers 2024's votes in the Americas, from presidential elections to referendums.