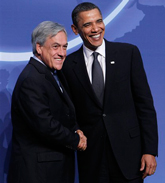 U.S. President Barack Obama has never traveled to South America before, but the month of March will mark an uptick in Latin America-related meetings for him. On March 3, he hosts Mexican President Felipe Calderón at the White House. Then, from March 19 through 23, Obama heads to Brasilia to kick off a five-day trip that will also take him to Rio, Santiago, and San Salvador. AS/COA Online looks at the issues likely to be discussed when Obama meets with the presidents of Mexico, Brazil, Chile, and El Salvador.
Calderón and Obama's fifth bilateral meeting on March 3 comes within three weeks after the murder of a U.S. Immigration and Customs Enforcement (ICE) agent in the Mexican state of San Luis Potosi. Since gunmen ambushed a diplomatic vehicle, killing ICE Agent Jaime Zapata and injuring his colleague Victor Avila, both countries arrested a number of individuals linked to transnational crime. On February 23, Calderón and Obama spoke regarding Mexico's arrest of six members linked to the Zetas gang and to Zapata's death. On the same day, U.S. authorities arrested over 450 individuals suspected of having ties to Mexican drug trafficking organizations.
Despite positive remarks about coordinating bilateral security efforts, last week Mexican daily El Universal published an interview with Calderón in which he responded angrily to State Department cables released by WikiLeaks. He charged U.S. diplomats with following their own agendas and contended that ICE, the Drug Enforcement Administration, and the Central Intelligence Agency work as rivals rather than allies. Moreover, he criticized the United States for failing to control drug abuse or the arms smuggling that fuel cartel violence in Mexico. On February 17, the U.S. House of Representatives shot down a measure that would have required increased reporting of assault weapon sales by gun dealers near the border.
But this week's summit could help the two governments get past the WikiLeaks dust up and refocus the Obama administration's message of "co-responsibility" in the bilateral fight against drug cartels. Aside from security issues, Calderón's March 2 and 3 visit will focus on the neighbors' strong economic ties and, as a government press release explains, "the conditions faced by Mexican immigrant communities in the United States." A stalled cross-border trucking program that would allow Mexican truckers to transport goods in the United States and immigration issues will likely be on the agenda. The Mexican president will also meet with House Speaker John Boehner (R-OH). AS/COA and the Woodrow Wilson Center will host a public forum with President Felipe Calderón on March 3.
 
With China having overtaken the United States in 2009 as Brazil's main trading partner, Obama will try to tighten economic ties with Brazil. Following a meeting with Brazilian Foreign Minister Antonio Patriota, Secretary of State Hillary Clinton said the two governments are working to "collaborate on advancing sustainable technologies such as hydropower, smart grids and energy efficient housing." Reuters reports that Obama will offer Brazil new financing for joint infrastructure projects, but the news agency's sources declined to be identified because the White House has yet to announce the offer. An injection of credit would help U.S. companies get more involved in Rio de Janeiro's construction boom in preparation for the 2014 World Cup and the 2016 Olympics. With some construction projects running behind schedule, new financing could help Brazil get back on track.
One of Rousseff's priorities may be to push the United States to offer generous technology transfer provisions for the multibillion-dollar sale of 36 jet fighters. Rousseff's predecessor Luiz Inácio "Lula" da Silva had nearly completed negotiations for the purchase of 36 Rafale jets from Dassault of France, but Rousseff put the project on hold shortly after her inauguration and has taken a renewed interest in U.S.-based Boeing's offer. For Brazil to seriously consider buying Boeing's Super Hornet jets, however, the deal would have to include technology transfer comparable to that offered by Dassault, which the U.S. government must approve. Frank Mora of the U.S. Department of Defense said last week that the United States is open to providing Brazil with a "robust proposal of the Super Hornet technology," according to UPI.
With both Brazil and the United States trying to increase exports, one of the more sensitive issues promises to be conflict over currency. Rousseff criticized U.S. monetary policy in January, saying it was well known that "all emerging market countries suffer as a result of the depreciation policy practiced by the countries in question," referring to the United States and China. The Obama administration's strategy is to direct Brazil's attention toward China by enlisting Rousseff's support to pressure Beijing into letting the yuan appreciate. A meeting in early February between U.S. Treasury Secretary Timothy Geithner and Rousseff may have laid the groundwork for such an understanding.
 
Chilean President Sebastián Piñera viewed Obama's decision to visit Chile as a sign of the country's progress toward democratic consolidation and economic growth. "He's going to visit two countries in South America: Brazil and Chile," Pinera said, referring to Obama. "Which constitutes, without a doubt, a statement of recognition." Chilean Foreign Minister Alfredo Moreno said Obama plans to make an "important speech about the region" in Chile, but did not give details.
Both Piñera and Moreno said they want to discuss clean energy, nuclear energy, education, science, technology, and innovation. Obama is also keen to discuss innovation with Piñera. In his state of the union speech in January, Obama recalled that Center Rock, a small U.S. company founded by Brandon Fisher that specializes in new drilling technology, helped design and implement one of the plans to rescue 33 trapped Chilean miners. "One of his employees said of the rescue, 'We proved that Center Rock is a little company, but we do big things,'" Obama said.
 
El Salvador, a country of six million people, was a less obvious choice for Obama's visit, but some important issues will occupy Obama's mind during his meeting with President Mauricio Funes. The spillover of Mexico's drug war into Central America concerns U.S. policymakers; U.S. Assistant Secretary for International Narcotics and Law Enforcement Affairs William Brownfield visited Central America earlier this month, where he announced plans for an anti-drug trafficking initiative for the region. For his part, Funes wants to impress upon Obama the need to reduce poverty in El Salvador and increase efforts to limit drug consumption in the United States. The Funes administration has expressed interest in ramping up economic cooperation with the United States, notably in the realm of clean energy. One program the State Department has already started working on with El Salvador, the Bridge Initiative, seeks to take advantage of Central America's remittance flows by channeling them through local financial institutions.
The Salvadoran president also plans to address Temporary Protected Status (TPS), a program that exempts migrants from being required to return to countries where conditions are deemed unsafe. With El Salvador's TPS status currently set to expire in March 2012, Funes would like to see the U.S. government substitute TPS with a path to permanent residency. Some 2.5 million Salvadorans live in the United States.