LatAm Minute: Minister Paulo Bernardo on Expanding Brazil's 4G Network
With millions of new users getting online each year, Brazil's government aims to expand its telecommunications infrastructure. To address growing demand for faster connections and a larger amount of data sent mostly via mobile, Brazil is inviting foreign investors to an auction of its 4G mobile network, slated to occur by September. Brazil's Minister of Communications Paulo Bernardo spoke with AS/COA Online's Luisa Leme about expanding the network and how the country's new internet law can facilitate competition.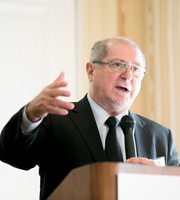 Over the last four years, mobile internet use grew 554 percent in Brazil. During this period, around three-quarters of those who accessed the internet did so from a mobile device. Overall, Brazil represents 40 percent of Latin America's internet audience. So to address growing demand, Brazil launched its 4G network in March 2013. The faster fourth generation network received 1.3 million accesses by the end of that year. But 4G still represents a minority of users: 2.5 million in comparison to 271 million people on 2G and 3G networks.
Bernardo explains that the government cut federal taxes for companies building new telecommunications networks, aiming to reduce costs. "We need infrastructure to support this growth," said Bernardo. He also expects 4G demand to grow at a similar pace as 3G. The country's most popular connection—3G—grew by 100 percent in 2011 and 65 percent the following year. Bernardo says devices operating on 4G could become cheaper after the new investments.
The auction—which must first be approved by the Federal Court of Accounts—will take place during a new era of internet regulation. Brazil's net neutrality law went into effect on June 23 and it should prove useful as the country seeks to expand 4G, said Bernardo. "Companies cannot curtail traffic from this or that service...so it benefits new companies participating and more competition among providers," he added.