LatAm in Focus: The Midway Point for Mexico's AMLO
Luis Rubio of México Evalúa digs into how the president seeks to shape his legacy  against the backdrop of a new legislature and bilateral talks with Washington.
Mexico's new legislature comes into session this month, meaning President Andrés Manuel López Obrador's Morena coalition is losing its two-thirds majority in the lower house of Congress.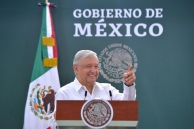 Approval Tracker: Mexico's President AMLO
Check support levels for Andrés Manuel López Obrador, now in the second half of his six-year term.
"The big issue that Biden needs to address with Mexico is helping create conditions for Mexico's economy to thrive."