LatAm in Focus: Mexico's March toward the 2024 Election
Political analyst Carlos Bravo Regidor explains the AMLO government's moves toward militarization and the ramped up race for the presidency.
New to the podcast? Check out past episodes of Latin America in Focus and subscribe on Amazon Music, Apple Podcasts, Google Podcasts, Soundcloud, Spotify, and Stitcher.
---
September in Mexico is a politically momentous time. It begins with the president's annual state of the union address and the launch of a new legislative season before arriving at Independence Day celebrations. This year, the country marked a major security shift in the month; President Andrés Manuel López Obrador, known as AMLO, introduced a reform to transfer the 110,000-strong National Guard from civilian to military command and Congress approved it. The new security environment was clear in the content of the presidential informe and the planned September 16 military parade in the capital.
Back when he was campaigning for president, AMLO pledged to end what has now been more than 15 years of the armed forces' role in policing. Instead, he is now taking steps to ensure the military's public security role, which was initiated by his political foe and former President Felipe Calderón (2006–2012), continues after AMLO's presidency ends in 2024. "There was always this notion that this was temporary and exceptional … and that eventually the army was going to go back to the barracks and the police will take care of things," says political analyst Carlos Bravo Regidor, a columnist for Reforma and Expansión Política and frequent commentator in a variety of Mexican national media outlets. He explains that AMLO instead disbanded the federal police when creating the National Guard in 2019. "What he's actually trying to do is normalize the exception," Bravo Regidor notes.
"It's very easy to give things to the army. It's very hard to take them back."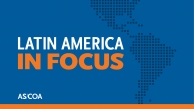 Latin America in Focus Podcast
Subscribe to Latin America in Focus, AS/COA's podcast focusing on the latest trends in politics, economics, and culture throughout the Americas.