LatAm in Focus: Kingmakers and Key Issues in Brazil's Lula-Bolsonaro Showdown
Quaest pollster Felipe Nunes and John Hopkins' Beatriz Rey cover the role of swing votes, social media, and secret budgets in October's elections.
New to the podcast? Check out past episodes of Latin America in Focus and subscribe on Amazon Music, Apple Podcasts, Google Podcasts, Soundcloud, Spotify, and Stitcher.
---
Two familiar names are battling to lead Brazil, as former President Luiz Inácio Lula da Silva and President Jair Bolsonaro lead the polls ahead of the October 2 first-round vote. This marks the first time in the country's history that the top two candidates for president already had the job and are asking for another chance. And voters will try to decide which of the two can get Brazil back on the right economic track. "What people are looking for is for someone who can actually fix the economy," says Felipe Nunes, CEO of Quaest polling firm, in a conversation with AS/COA Online's Luisa Leme.
Nunes explains that the swing voting bloc that can make or break Lula's wide advantage or give Bolsonaro a second-round recovery is the evangelical vote—a growing group in Brazil. Nunes identifies key Southeast swing states to watch: Minas Gerais, Rio de Janeiro, and São Paulo. Low-income women, he notes, can also play an important role, having backed both Lula and Bolsonaro in the past.
While the latest Quaest poll has Lula with 44 percent of voter intention against 31 percent for Bolsonaro, the incumbent gained ground recently thanks in part to a package of social benefits dispensed to the poorest Brazilians.
Still, the president "shoots himself in the foot" when he attacks democratic institutions, says Nunes, adding: "The voters that he can conquer with the benefits created by the government are the same ones who don't like institutional instability." The August Quaest poll shows that 83 percent of voters say Bolsonaro, who has taken steps to cast doubt on electoral processes, should recognize the election results.
"What people are looking for is for someone who can actually fix the economy." —Felipe Nunes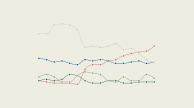 Poll Tracker: Brazil's 2022 Presidential Election
See how competition between presidential hopefuls is shaping up ahead of the October 2 first-round vote.