LatAm in Focus: How Data Voids Exploit the Latino Vote
Facebook Fellow and WVU PhD candidate Claudia Flores-Saviaga explains how disinformation fills online content gaps, particularly for Spanish speakers.
There's no doubt about it: trolls, bots, and misinformation have become a major problem, particularly whenever election season rolls around. And when there isn't enough quality content out there about a topic, purveyors of misinformation will be there to fill in the gaps.
That's what has become known as a data void. If trolls share a rumor attacking a candidate, the lack of content checking that fake information allows it to spread—an issue that may deepen with an even greater absence of correct information published and provided for Spanish-speaking audiences. Moreover, in the case of the 2020 U.S. presidential race between Joe Biden and Donald Trump, those spreading misinformation tailored misinformation to specific Latino audiences.
"It's not something that is only affecting the Latino vote but democracy overall."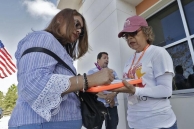 LatAm in Focus: The Myth of the Monolithic Latino Vote
In this episode, we dig into the data on this U.S. voting bloc with Mark Hugo Lopez of the Pew Research Center.