LatAm in Focus: On the Ground during Chile's Year of Change
Santiago-based journalist John Bartlett talks about covering the protests and a vote to rewrite the country's constitution, even as a pandemic bore down. 
Unrest, a pandemic, polarization, and an election. In 2020, those words might get a person thinking of countries ranging from Bolivia to the United States. But, in this episode of Latin America in Focus, Santiago-based journalist John Bartlett takes listeners through Chile's year of transformation, from October 2019 protests sparked by a transit-fare hike through a pandemic lockdown to the October 25 referendum that saw 78 percent of voters back the rewriting of the country's dictatorship-era Constitution.
On the other hand, it wasn't supposed to take a year. The March 2020 arrival of the coronavirus pandemic led to the postponement of the April plebiscite until October. Still, the delay and the lockdow, didn't stifle the push for a new Magna Carta. "I think more than anything what it did was given Chileans a vital moment of introspection," Bartlett tells AS/COA Online's Carin Zissis. "There were several things that happened during the lockdown that really put the emphasis back on some of the demands and social movement. People talking about healthcare, for example," he explains, noting questions raised about higher death rates in public hospitals rather than private ones amid concerns about inequality that sparked the movement in the first place.
"I think more than anything what [the pandemic] did was give Chileans a vital moment of introspection."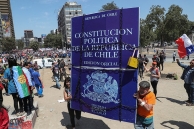 LatAm in Focus: The Role of Chilean Women in a New Constitution
Constitutional lawyer Claudia Sarmiento explains why Chileans have been out on the streets demanding a new constitution and how gender plays into the social movement.