LatAm in Focus: Can Xiomara Castro Take Control of Honduras' Reins?
Journalist Jeff Ernst says two former presidents have hogged the spotlight during the new president's political honeymoon.
Latin America is no stranger to outspoken leaders, but Xiomara Castro, Honduras' new president, doesn't fit that mold. Her election in November 2021 attracted attention, given that she won against the established National Party to bring the Honduran left back to power for the first time since the 2009 coup that ousted her husband, Mel Zelaya. However, since taking office about 100 days ago, Castro has engaged in a quiet style of leadership—and found herself overshadowed by two former presidents.  
"She hasn't been particularly visible during these first three months and, and that's what's fueling these rumors and speculation that Mel's pulling the strings," says Jeff Ernst, a freelance journalist who covers Honduras. He spoke to AS/COA Online's Chase Harrison about how the new president is faring, the status of the extradition of former president Juan Orlando Hernández, and Castro's place in regional political dynamics.
"This isn't your average government transition. This is a transition that comes after 12 years of absolute control in one party."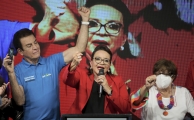 Amid Soaring Turnout, Castro Set to Be Honduras' Next President
The democratic socialist and former first lady will end to 12 years of National Party rule in the country.