Amid Soaring Turnout, Castro Set to Be Honduras' Next President
The democratic socialist and former first lady will end to 12 years of National Party rule in the country.
In what was deemed one of the most consequential elections in its democratic history, Honduras saw its citizens head to the polls on November 28 in record high numbers. More than 69 percent of Hondurans participated, marking the highest turnout level since 1997 and well above the 57 percent witnessed in 2017's presidential election. This turnout was all the remarkable, given surveys showing Hondurans' low levels of support for democracy and high levels of expectations for fraud in this electoral round.
A majority of those who turned out on Sunday voted for a change from the governing National Party and made LIBRE party's Xiomara Castro the runaway victor. Her win means she will be the country's first woman to become president and the only sitting female president in Latin America. With 61.8 percent of votes count, she had secured a 51.8 percent of the vote—about 16 points higher than National Party's Nasry "Tito" Asfura, who received 35.2 percent. If high turnout was one surprise and Castro's landslide counted as a second one, a third was the share of the vote captured by the Liberal Party's Yani Rosenthal,a political scion who, despite having served time for money laundering in the United States, won 9.4 percent of the vote.
On November 30, Asfura conceded defeat, meeting with Castro and her family to congratulate them in a peaceful scene that contrasted sharply with the tense unrest that followed the 2017 vote. Castro also received well wishes from Honduras's Council of Private Enterprise. The business sector previously enjoyed a good relationship with the National Party. However, given the party's entrenched corruption linked to narcotrafficking, the private sector has more recently aligned with the opposition, per CESPAD.
The National Electoral Council has 30 days from the election to certify the result, though Asfura's concession likely means a transfer of power will get underway.
Castro's victory marks an end to 12 years under the conservative National Party, which has won all three presidential elections held since 2009, the year that leftist President Manuel Zelaya, Castro's husband, was ousted from office and forced into exile. The new president is historically inaugurated on January 27.
The elections also stand in marked contrast with the country's last presidential vote in 2017, when an opposition candidate initially led—albeit by a smaller margin—before lengthy voting delays and the governing party securing a narrow win, sparking protests and violence amid widespread allegations of fraud. This time around, there were reports of questionable practices at polling sites, an alleged cyberattack on the website of the National Electoral Council, and both Castro and Asfura's parties claiming victory before official results were released. But while many observers worried a close race could result in another turbulent electoral round, Castro's significant lead above Asfura has, thus far, left little room for uncertainty.
What does a Castro presidency mean for Honduras? The self-proclaimed democratic socialist has committed herself to a host of policies, including rewriting the country's Constitution and creating a new UN-backed anticorruption body after a similar one was shuttered in January 2020 by current President Juan Orlando Hernández. She's also proposed switching Honduras' diplomatic recognition from Taiwan to China, which would leave Taipei with just 14 remaining allies worldwide. Xiomara Castro's opponents spend much of the campaign season trying to tie her to leftist figures like Hugo Chávez and Fidel Castro. While her husband maintained close ties with Chávez, Xiomara Castro has not been public about alliance to the current Venezuelan regime, although she did thank Nicolás Maduro on Twitter after he sent her an election congratulations.
Castro's government will have to grapple with Honduras' challenging economic situation. Per the World Bank, Honduras experienced a 9 percent GDP contraction in 2020. Nearly a third of the population was facing severe hunger in early 2021. The country's unemployment rate sits at around 11 percent, and voters ranked this issue as their top concern at the polls. Hondurans' lack of economic opportunity—and the residual effect of the two hurricanes that hit the country in 2020—have generated large outflows of migration. In just September and October, the U.S. Customs and Border Protection logged 50,000 migrant encounters involving Hondurans. Castro will also assume control of Honduras' Covid-19 response. As of late November, only 39 percent of the population was fully vaccinated.
Castro's agenda could face hurdles in Honduras' 128-member Congress. Though results for this unicameral body in Sunday's election have yet to be published, there is a chance that the National Party, which built a powerful bureaucracy and party network over its 12 years in power, outperformed its presidential candidate in congressional races. No matter the Congressional composition, Castro's will also have to hold together her own coalition, which could prove difficult.
A final question of a Castro presidency regards Hernández's future. JOH, as he's known, faces allegations in a Manhattan federal court that he accepted bribes and facilitated drug trafficking. His brother Tony was found guilty of drug trafficking. The extent to which Honduras' new president cooperates with the United States could be determinate in JOH's fate.
This piece was initially published November 29, 2021 and was updated as new information became available.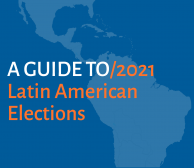 A Guide to 2021 Latin American Elections
In 2021, ten countries in Latin America hold elections—five of them presidential contests—while reeling from the pandemic's devastating impact.