LatAm in Focus: Amb. Thomas Shannon on How Lula's Win Resets Brazil's Foreign Policy
The career diplomat and former U.S. ambassador to Brazil explains what the ex-president's comeback means for Latin America, the U.S., China, and the world.
New to the podcast? Check out past episodes and learn more about Latin America in Focus, and subscribe on Amazon, Apple, Spotify, Google, Soundcloud, or Stitcher.
---
He spent time in jail, staged a comeback to become a candidate, and made it through an ugly, polarized campaign cycle to win an October 30 presidential runoff by fewer than two points. In his victory speech, the once and future President Luiz Inácio Lula da Silva sought to unify a divided country and talked about bringing Brazil back to the international stage after the leadership of Jair Bolsonaro often resulted in rocky foreign relations.
In January, Lula will start a third term two decades after he began his first—and in a remarkably changed world. What will his leadership mean, not just for Latin America, but for relations with Washington, Beijing, and the international community? How will his victory reset climate change discussions? And what role can Lula's Brazil play as the world faces energy and food security challenges amid the Ukraine conflict?
In a bonus episode of Latin America in Focus, Ambassador Thomas Shannon provided answers to these questions and more in a conversation with Luisa Leme, our executive producer. "Brazil and the United States are uniquely positioned to work together to show that democracy can deliver the goods, especially in a world of rising authoritarian powers," said the former U.S. ambassador to Brazil from 2010 to 2013. The diplomat also served as the U.S. under secretary of state for political affairs and was a career ambassador—the highest rank in the U.S. foreign service. With over three decades of government and diplomatic experience, he is now a senior international policy advisor at Arnold & Porter.
"Brazil's role in the world is important. Its geographic address is South America. Its existential address is global."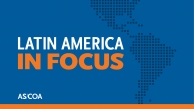 Latin America in Focus Podcast
Subscribe to Latin America in Focus, AS/COA's podcast focusing on the latest trends in politics, economics, and culture throughout the Americas.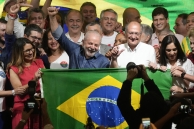 World Leaders React to Lula's Victory
AS/COA Online rounds up responses to Luiz Inácio Lula da Silva's October 30 runoff win against incumbent Jair Bolsonaro.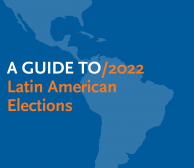 Guide to 2022 Latin American Elections
AS/COA covers this year's votes in the Americas, from presidential elections to referendums.
"I don't think Brazil wants to be caught in a world in which choices have to be made between the United States and China."