Joe Biden's Top Officials on Latin America and the Caribbean
AS/COA Online looks at the new U.S. president's nominees and appointees, their ties to the region, and relevant policy leanings.
Editor's note: This piece was originally published on January 28 and has been updated as nominees are confirmed. A prior version of this article stated that the Summit of the Americas will occur in April 2021. The summit has been postponed.
Foreign policy initiatives between the United States and Latin America have been a priority for President Joe Biden since back when he was a senator. As the ranking member of the Senate Foreign Relations Committee, he led the passing of Plan Colombia in 2000. His 2020 campaign proposed ambitious plans to tackle climate change, immigration, and a $4 billion rebuilding strategy for Central America to slow migration by addressing the root causes. 
Biden's cabinet, if confirmed as is, would have four Latinos—tied with Barack Obama's second cabinet for the most—to helm the departments of Homeland Security, Health and Human Services, Education, and the Small Business Administration. Donald Trump's cabinet was the first in three decades to include no Latinos. Biden's cabinet would also be the first gender-balanced cabinet in U.S. history and the fourteenth globally. 
Biden's chances of the Senate confirming his nominees improved greatly when Democrats took majority control of the body in January. In an early vote, the Senate confirmed Antony Blinken as secretary of state in a 78-22 vote on January 26. Though all of the nays were from Republicans, Blinken did win support from most of the GOP senators on the Senate Foreign Relations Committee, including Marco Rubio (R-FL) and outgoing chair Jim Risch (R-ID).
What experience with Latin America and the Caribbean will his cabinet and top advisors bring to the table? AS/COA dives into some key nominations as they pertain to the region. While most cabinet-level posts require Senate confirmation, other advisory positions—including all National Security Council posts—are appointments.
Confirmed by the Senate
Secretary of Defense: Lloyd J. Austin III
Secretary of State: Antony Blinken
Attorney General: Merrick Garland
Secretary of Energy: Jennifer Granholm
Secretary of Homeland Security: Alejandro Mayorkas
Secretary of Commerce: Gina Raimondo
U.S. Trade Representative: Katherine Tai 
Ambassador to the United Nations: Linda Thomas-Greenfield 
Secretary of Agriculture: Tom Vilsack 
Appointed
NSC Senior Director for Western Hemisphere Affairs: Juan Gonzalez
Coordinator for U.S. Southern Border: Roberta Jacobson
Special Presidential Climate Envoy: John Kerry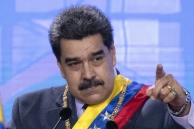 Venezuela Needs More Realism, Less Hubris from the United States
The Biden administration must refine Washington's strategy toward the 20-year-old dictatorship.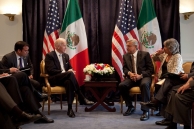 LatAm in Focus: What's on the Horizon for U.S.-Mexico Ties in a Biden Administration
COMEXI President and Mexican ex-Deputy Minister for North America Sergio Alcocer covers how the two governments will handle trade, security, immigration, and more.