House of Miracles: Votive Sculpture from Northeastern Brazil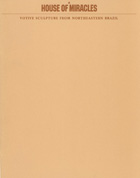 This exhibition catalogue explores the vibrant folk art tradition of carved wood and ceramic ex-votos in rural Brazil. Ex-votos are representations of miraculous cures, or the ailments that have been cured, offered in shrines and churches to give thanks for divine intervention in personal difficulties. The catalogue  includes essays by Fatima Bercht and Lelia Coelho Frota.
1989 64 pp. 12 color and 32 b/w illus.