Great Expectations: Gabriel Boric's First 100 Days in Chile's Presidency
The millennial president has had to face three major challenges: economic woes, security issues, and high demands to deliver.
Expectations were sky high for Gabriel Boric when he took office as Chile's president on March 11, 2022. Back during the 2021 election, the 36-year-old from the far south of the country was hailed as a representative of the political potential of millennials and the flagbearer of a new Latin American left. But his inauguration came at a time of upheaval, pushing the one-time student activist toward the center, much to the chagrin of some members of his own coalition and leftist supporters. And after years of protests and unrest, Chile is in the process of rewriting its Constitution, which could transform the country's institutions.
Marking one hundred days on June 19, how is Gabriel Boric's government faring? It hasn't been easy, given that the new president and his cabinet of largely political newcomers face a fragmented Congress and a learning curve in executive management. Moreover, Boric inherited a sluggish economy, high inflation, and persistent social unrest in the south. His approval rating—50 percent at the time of his inauguration in March—sank to a low of 35 percent in April, per pollster Cadem, below levels seen by his two processors at the same point in their terms. His support has since rebounded to 44 percent as of June 10, but the bumpy ride reflects the challenges confronting the leader as he actualizes his ambitious agenda and convinces skeptics of his leadership. "There have been difficulties and there have been mistakes," Boric said to La Tercera at the start of March.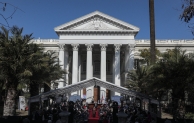 A Look at What Is—and Isn't—in Chile's Constitutional Draft
After a 10-month process, the draft is in. Chileans will vote for or against the new constitution in a referendum slated for September 4.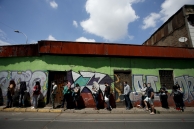 LatAm in Focus: On the Ground during Chile's Year of Change
Santiago-based journalist John Bartlett talks about covering the protests and a vote to rewrite the country's constitution, even as a pandemic bore down.