A Look at What Is—and Isn't—in Chile's Constitutional Draft
After a 10-month process, the draft is in. Chileans will vote for or against the new constitution in a referendum slated for September 4.
On May 13, Chile's constitutional convention presented the draft of its proposed foundational document. The 154 elected delegates worked for over 10 months through the complex process of proposing and approving hundreds of articles. The constitution, if approved, would replace Chile's current Magna Carta, which was put in place in 1980 by the Pinochet dictatorship and has been reformed 52 times since.
The new document's slant is decidedly progressive, which is unsurprising given the composition of the convention body elected in May 2021. The body is dominated by left and center-left delegates who worked with indigenous representatives to pass articles on topics such as the environment, healthcare, gender, education, and indigenous rights. "It's an advancement that is responding to social demands and inequalities," said Chilean human rights lawyer Dinka Benítez, referencing the mass mobilizations that started in 2019.
Chileans will eventually vote for or against the constitution in a September 4 referendum, but it's not clear the "approve" camp will win. While 78 percent of voters voted in favor of the rewrite in October 2020, recent polling now shows only 38 percent support the document, with opponents voicing concern over provisions they see as radical. What voters decide will be a crucial test for President Gabriel Boric, who championed a constitutional rewrite while a congressman and will have to either oversee the implementation of the new framing document or steer the country forward from a "reject" vote.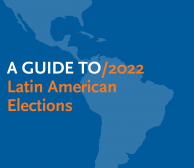 Guide to 2022 Latin American Elections
AS/COA covers this year's votes in the Americas, from presidential elections to referendums.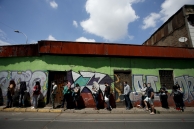 LatAm in Focus: On the Ground during Chile's Year of Change
Santiago-based journalist John Bartlett talks about covering the protests and a vote to rewrite the country's constitution, even as a pandemic bore down.