Explainer: Who Are the Two Candidates Competing in Ecuador's Presidential Runoff?
Luisa González and Daniel Noboa will face off in the country's October 15 runoff to replace Guillermo Lasso. AS/COA profiles the candidates.
As presidential candidates Luisa González and Daniel Noboa traverse their country on the campaign trail, they're each donning an extra garment: a bulletproof vest. In a country long hailed as one of Latin America's safest, it's an unfortunate trend.
As international criminal organizations increasingly use Ecuador as a cocaine transit hub, the country saw its homicide rate jump 245 percent between 2020 and 2022. Violence has extended to politics; anti-corruption candidate Fernando Villavicencio was assassinated just 11 days before the August 20 presidential first round. At least two other politicians have been killed in this electoral process. 
Ecuador wasn't originally supposed to have an election this year. It was triggered by President Guillermo Lasso's May dissolution of both the legislature and the presidency. But now, the country could now get either its first-ever woman elected president or its youngest elected president of all time. The two candidates, both of whom are former lawmakers, will finish out the equivalent of Lasso's term, which ends in 2025.
While neither was well-known before entering the competition, both have connections that bolster their recognition. González, representing the Citizen Revolution Political Movement, has campaigned for bringing Ecuador back to the times of ex-President Rafael Correa (2007–2017), who has backed her campaign from his exile in Belgium. Meanwhile, Noboa—representing National Democratic Action—is the son of five-time presidential hopeful Álvaro Noboa and former lawmaker Anabella Azín. At 35, he would be the world's youngest president after Burkina Faso's Ibrahim Traoré.
Going into the runoff, who's the favorite? Polls point to Noboa. Sebastian Hurtado of Quito-based political risk firm Prófitas agrees, reckoning Noboa has the edge but faces challenges. "The most significant liability that Noboa has is the potential for him to [be seen as] the candidate for continuity of the Lasso government instead of the candidate of change," says Hurtado.
AS/COA Online spoke to experts to better understand the candidates competing to be Ecuador's next president.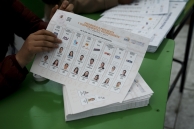 Fast Facts about Ecuador's First-Round Presidential Vote
Two former lawmakers, Luisa González and Daniel Noboa, will face each other in the October 15 runoff. AS/COA looks at the facts.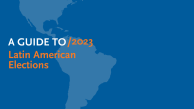 A Guide to 2023 Latin American Elections
AS/COA covers this year's votes in the Americas, from presidential elections to referendums.