Explainer: Where Do U.S. Presidential Candidates Stand on Immigration?
From mass deportation to pathways to citizenship, find out leading candidates' proposals.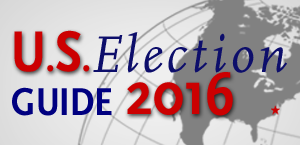 On February 1, Iowa will hold its caucuses, marking the first official primary event of the 2016 race for U.S. president. With immigration a major issue in campaigns, AS/COA Online gives an overview of proposals from leading candidates in both the Republican and Democratic parties.
Glossary
But first, here's a rundown of some terms used frequently by the candidates.
DREAM Act: A federal bill that allow would allow undocumented residents who were brought to the United States as children to remain in the country, offering a pathway to citizenship in several stages. While the bill hasn't become law, a dozen states passed their own versions allowing in-state tuition for undocumented immigrants who meet certain requirements.
DACA and DAPA: Two executive actions signed by U.S. President Barack Obama that offer protections to immigrants against deportation. DACA is for undocumented immigrants who arrived in the United States before age 16, and DAPA is for undocumented parents of children who are legal permanent residents or citizens. Twenty-six states have challenged the ruling and the Supreme Court is scheduled to release its decision on the matter in June 2016.
E-Verify: An online system that allows businesses to determine their employees' eligibility to work in the United States. Employers' participation in the system is voluntary, though mandatory in some states.
Guest-worker programs: Federal initiatives that allow foreign workers to reside in a country for specific jobs, particularly ones for which there are not enough qualified domestic workers to fill the positions.
As a senator, Hillary Clinton co-sponsored DREAM Act legislation three times, as well as comprehensive immigration reform in 2004. She supported the Comprehensive Immigration Reform Act in 2006 and 2007. Clinton also voted several times for the construction of a border fence.
She supported Obama's DACA and DAPA executive actions on immigration, although she and many other Democrats opposed his administration's January 2016 move to step up raids on immigrant families. While she wavered on issues like driver's licenses for undocumented immigrants in her 2008 bid for the Democratic nomination, she's clarified many of those positions this election cycle, coming out in support of such licenses last year, for example.
Clinton unveiled a pro-immigration policy at a speech in Nevada in May 2015, saying she would expand Obama's executive actions on immigration. She is the lone candidate in the race whose support among Latino voters is higher than it is among the general public, and moreover, one of the only demographic groups in which her support rose in recent weeks.
As governor of Maryland (2007–2015), Martin O'Malley signed the state's DREAM Act in 2011, putting him at odds with the Obama administration. In 2014, he ordered state jails to ignore federal detention requests for immigrants without criminal records.
"He not only supported many groundbreaking reforms in the state, he also became a national spokesperson for immigrant families and their human rights, especially the unaccompanied minors," said Kim Propeack, of CASA de Maryland, the state's largest immigrants rights organization.
While O'Malley supporters hoped his detailed immigration plan—which includes expanding access to health care for DACA and DAPA recipients—would give his campaign a boost, his poll numbers remain in the low single digits heading into the first primary races of 2016.
Bernie Sanders is opposed to guest-worker programs, calling them "a massive effort to attract cheap labor" and saying they take away jobs from American workers. He also backpedaled from his Senate vote for the 2013 Comprehensive Immigration Reform Act, saying it included "a series of compromises that should now be rejected."
Nonetheless, Sanders put forth an immigration plan in which he voices support for the DREAM Act and a plan to expand Obama's executive actions on immigration. Furthermore, he is in favor of providing services like healthcare to immigrants, shutting down private detention centers, and keeping immigrant families together.
In 2013, Florida Governor Jeb Bush published his book Immigration Wars, in which he argued against a pathway to citizenship for those who enter the country illegally, a reversal of his previous position. That said, he does support a pathway to citizenship for DREAMers. As for undocumented immigrants who do not fall under the DREAM Act, Bush supports what he calls a "rigorous path" toward legal status—including passing a background check, paying any due taxes and fines, and learning English—but not citizenship. During a debate in September, he said that he and his wife, who is Mexican-American, are in favor of a secure border.
He advocates requiring employers to use E-Verify, stepping up efforts to identify and deport those who have overstayed their visas, and cracking down on sanctuary cities.
Ben Carson does not list immigration as one of the main issues on his platform. At a September 2015 voters summit, Carson said that when immigration officials release illegal immigrants, "a lot of those people are not from Honduras and Mexico. They're from Iraq and Somalia and Russia."
In a July 2015 interview with Fox News, Carson said he would secure the country's borders "north, south, east, and west," although not necessarily with walls but with surveillance technology such as drones. In his 2013 book, America the Beautiful, Carson wrote he believed the country had taken "the moral low road" by taking advantage of cheap migrant labor while not providing a pathway to citizenship.
New Jersey Governor Chris Christie signed the New Jersey DREAM Act in 2014, allowing undocumented immigrants to pay in-state tuition for universities, though he declined a measure that would allow these students to receive financial aid or grants. More recently, the governor joined a brief supporting an injunction against Obama's executive actions on immigration. Christie won 51 percent of the Latino vote in his 2013 reelection campaign, a 19-point improvement from the 2009 race.
He raised eyebrows in August when he made a comment on the campaign trail that he would bring in the CEO of shipping company FedEx to track immigrants who'd overstayed their visas. A few days later he clarified his remarks, saying he wasn't advocating putting barcodes on people, but rather using their fingerprints.
Texas Senator Ted Cruz introduced and sponsored many bills in Congress seeking to prevent a pathway to citizenship and increase criminal penalties for undocumented immigrants. Cruz opposed the 2013 immigration legislation proposed by the "Gang of Eight," a bipartisan effort to create a path to citizenship for undocumented immigrants. He also introduced an amendment that would grant legal status to undocumented immigrants—as long as they wouldn't become citizens with the right to vote. Cruz has said he did this to prove Democrats were not interested in granting citizenship, but only in acquiring more votes.
During this campaign, Cruz has said that on his first day in office, he would rescind Obama's executive actions, which he calls unconstitutional. On border security, Cruz supports building a wall to close the border between Mexico and the United States (and says he would hire Donald Trump to build it), tripling the number of border patrol agents, and increasing aerial surveillance. He also supports ending birthright citizenship and reducing the number of people legally allowed into the United States.
John Kasich's views on immigration vary and evolved over time. While the Ohio governor is in favor of enhancing border security, he's no longer opposed to birthright citizenship as he was earlier in his career. The candidate supports legal status for the undocumented, possibly even a pathway to citizenship, acknowledging a legislative compromise might be necessary. Notwithstanding, Ohio is one of the states suing the White House over DACA and DAPA.
Kentucky Senator Rand Paul said on January 26 that while he does not support an open-border policy as many of his fellow Libertarians do, he does think that improving and allowing more legal immigration would reduce illegal immigration. He does not support a pathway to citizenship for undocumented immigrants, but he would endorse a program granting legal status to those already in the country. He voted against 2013 immigration legislation because he didn't agree with limiting the number of worker visas.
Born in Miami to Cuban immigrants who emigrated from the island before Fidel Castro came to power, Florida Senator Marco Rubio joined the bipartisan "Gang of Eight" senators to co-author the Comprehensive Immigration Reform Act of 2013. The bill passed the Senate in June of that year, but died in the House. Rubio, who took much criticism from fellow conservatives for his role in that legislation, backed off that effort and says he now supports working on immigration policy in stages, but not comprehensively. "What I've learned is you can't even have a conversation about that until people believe and know...that future illegal immigration will be controlled," he said in February 2015.
Rubio has campaigned to build a wall on the border with Mexico, make E-Verify mandatory nationwide, and change the U.S. immigration system from "family-based" to "skill-based." Rubio does not support a pathway to citizenship for undocumented immigrants, but does support a program that would lead to legal status, similar to Bush's plan. In Rubio's proposal, immigrants would have to remain in this program for 10 years before applying for permanent residency.
Donald Trump launched his presidential campaign in June 2015 with inflammatory remarks about immigrants from Mexico and the rest of Latin America. His pledge to deport every immigrant in the country illegally remains a pillar of his campaign, as does building a wall along the U.S.-Mexico border. Trump proposes to make Mexico pay for that wall. While he advocates for mass deportations, he also said in July that the country should then have "an expedited process" of allowing "the good ones" to return and pursue legal status.
Trump proposes multiple means of tightening requirements to live and work legally in the United States, including: making E-Verify mandatory nationwide, increasing the prevailing wage for H1-B visas, mandating the hiring of American workers before guest workers, and ending the J-1 visa jobs program for foreign youth.
He also supports ending birthright citizenship, a guarantee of the 14th Amendment of the Constitution.