Explainer: Where Do U.S. Presidential Candidates Stand on Cuba Policy?
U.S. President Barack Obama makes a historic trip to Cuba in late March. But not all the candidates agree with the rapprochement.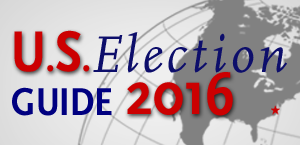 The 2016 U.S. election cycle is historic for many reasons. Aside from the bombastic rhetoric, two Cuban Americans stand out among the Republican presidential candidates. While Senators Ted Cruz of Texas and Marco Rubio of Florida oppose renewed U.S.-Cuba ties, polls show Cuban Americans support rapprochement. A December 2015 survey by Bendixen and Amandi International found that 56 percent of Cuban Americans around the country favor President Barack Obama's approach of normalizing relations with Cuba. Another 53 percent favor lifting the embargo. 
With Florida primaries on March 15 and Obama's trip to Cuba on March 21, we take a look at each candidate's stance on U.S. policy towards the Caribbean island.
Former Secretary of State Hillary Clinton has shifted her position on the Cuban embargo, a policy that restricts U.S. travel to and trade with the island. The policy became further entrenched during her years as first lady, when Congress passed the 1996 Helms-Burton Act requiring the Cuban government make certain reforms before the embargo could be lifted. Back in 2000, Clinton said she was "not ready to vote to lift the embargo." She maintained this stance during her first presidential bid in 2008, though, in a Univision debate that year, she said she'd be willing to work with a new Cuban government that showed some progress toward democratization. 
Then, as secretary of state during Obama's first term, she urged the White House to review 50 years of Cuba policy as the embargo "wasn't achieving its goals." The set of emails released on February 29 by the State Department chronicling the secretary's time in office shows that Clinton reached out to foreign governments to begin a dialogue with the Cubans. In January 2012, Clinton called for Brazilian President Dilma Rousseff to raise the case of U.S. citizen Alan Gross—then a prisoner in Cuba for his work with U.S. Agency for International Development—during the head of state's visit with Cuban President Raúl Castro.
Clinton has come out forcefully in support of lifting the embargo this time around. Speaking in Miami in July 2015, Clinton said it was time to do away with it, and if elected, she would use executive authority as president to further loosen restrictions. 
Ted Cruz, a Cuban American born in Canada, has little affection for the government of his father's country so long as the Castros are in power. The senator has been critical of warming relations since Obama's 2014 announcement, calling for Cuba's political opposition to have a voice in any such negotiations. Cruz does not support lifting an embargo without a free Cuba, but has not laid a policy going forward if he were to become president.
Meanwhile, he promised to block the appointment of a U.S. ambassador to Cuba, and cosponsored a bill fellow Republican Marco Rubio introduced in 2015 to keep U.S. funds from getting in the hands of the Cuban military. 
Ohio Governor John Kasich has said little about U.S. foreign policy toward Cuba, though he believes the Obama administration's move was a mistake. When asked by Miami CBS4 News whether he'd break newly formed diplomatic relations, Kasich answered with caution: "Well, let's see where we are when I come [into office] and what the administration has done." 
Marco Rubio has repeatedly rejected renewed relations with Cuba, saying that loosening of economic restrictions will empower the Communist government, which will continue to oppress the Cuban people. He says the United States is making unilateral concessions while human rights issues worsen. As such, he pledged that as president he would roll back as many of Obama's policies as possible, such as last year's removal of Cuba from the U.S. State Department's List of State Sponsors of Terrorism. 
On the other hand, Rubio says he'd permit U.S. businesses to participate in Cuba's telecommunications sector if the government opens uncensored Internet to the population. The U.S. immigration law that allows Cubans to apply for refugee status once they've reach the mainland—known colloquially as the "wet foot, dry foot" policy—should be revised, according to Rubio, especially as it becomes easier to travel between the two countries. Since 2013, Rubio has publicly condemned American travel to the island. 
In June 2015, the senator introduced the Cuban Military Transparency Act in Congress to keep U.S. resources to Cuba from going to the military or associated branches of government. 
Rubio has also pledged to impede the appointment of a U.S. ambassador to the island until the country makes political and human rights reforms. A member of the Senate's Foreign Relations Committee, Rubio is currently blocking a vote on Roberta Jacobson's nomination as ambassador to Mexico because of her role in U.S.-Cuba negotiations. 
Vermont Senator Bernie Sanders has backed Obama's moves to end the Cold War-era policy on Cuba. Before the December 2014 announcement, Sanders traveled to Cuba in February to discuss human rights, trade, and health care with the Cubans. While Sanders agrees with normalizing relations, he also calls for respecting the island's sovereignty.
At the end of 2015, a 1985 interview of Sanders surfaced in which he commended Fidel Castro's reforms on universal health care and education, policies that are currently central to his campaign platform.
Donald Trump differs from a majority of his Republican counterparts on the topic. "Ultimately, it's going to be good," he said about the rapprochement. But he claims the U.S. government could have made a better deal.
Back in 1999, the Cuban American National Foundation praised Trump for rejecting European business deals to build on the island.