Explainer: U.S. Immigration Policies and Their Impact on Latin Americans
From Title 42 to TPS, learn about major U.S. policies affecting Latin American migrants and asylum seekers.
As U.S. voters prepare to cast ballots in the midterms, immigration is once again again a major electoral issue. Some candidates are stirring up concerns about record numbers of apprehensions along the southern border in a bid to win votes. Moves by the Republican governors of Texas and Florida to send migrants to Martha's Vineyard, New York, and Washington DC have dominated headlines and drawn debate. "If you ask Republicans, [immigration] is the number two issue" after inflation, Congressman Don Bacon, a Republican seeking reelection in Nebraska, told TIME last month.
But immigration is not a major concern for the second-biggest voting bloc in the country—Latinos. A new Washington Post-IPSOS poll found that the issue didn't even make it into the top five for Latino voters. Only 5 percent of Latinos consider it a top issue, compared to 31 percent who named rising prices, 20 percent who picked abortion, and 10 percent who chose gun control. Still, as UnidosUS' Clarissa Martínez de Castro explained in a recent Latin America in Focus podcast episode, "​​Even as Latinos go to the polls with the economy and jobs on their mind, immigration is still somewhere in their hearts."
While some say the Biden administration is waiting until after the midterms to decide whether to make major immigration policy changes, it took steps in October to handle the rising number of Venezuelan migrants, saying it will admit 24,000 asylum seekers but will start to use Title 42—a Trump-era policy that the Biden government itself has sought to end—to block the entry of others into the United States.
As we head toward the November 8 midterms, where does U.S. immigration policy stand? AS/COA Online explores major active U.S. immigrations programs with a focus on how they affect Latin American migrants.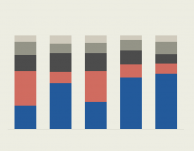 Poll Tracker: The Latino Vote in the 2022 U.S. Midterm Elections
AS/COA Online looks at where Latinos in the United States stand on party affiliation, top issues, and support for the Biden administration.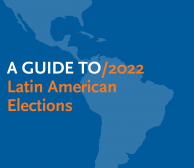 Guide to 2022 Latin American Elections
AS/COA covers this year's votes in the Americas, from presidential elections to referendums.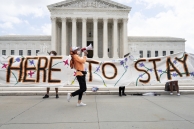 Explainer: What Is DACA?
With a decision from the U.S. Supreme Court upholding DACA, AS/COA Online looks at the immigration program, the Trump administration's attempt to end it, and its current status.