Explainer: U.S. Immigration Policies and Their Impact on Latin Americans
From Title 42 to TPS, learn about major U.S. policies affecting Latin American migrants and asylum seekers.
This article was originally published on October 20, 2022, and has since been updated.
More than three years into the pandemic, the World Health Organization announced on May 5, 2023, that Covid-19 no longer constituted a public health emergency. 
Less than a week later, a pandemic-era U.S. immigration policy also drew to close. Title 42, as the measure is known, saw more than 2.8 million migrants turned away since the Trump administration implemented it in March 2020. 
Despite U.S. President Joe Biden declaring that "the pandemic is over'' as far back as September 2022, the immigration policy remained in place, and subject to constant legal challenges, until it expired along with other pandemic-related emergency measures on May 11. All told, roughly 84 percent of all Title 42 expulsions occurred since Biden took office in January 2021 through March 2023. But even as the use of Title 42 comes to a close, the question of how to handle rising migration is far from over. As violence, climate change, repressive governments, and economic inequality continue to drive people from their home countries in the Americas and beyond, immigrants look to the United States for haven. 
With comprehensive immigration reform long stalled in Congress, the White House constantly unveils new policies, such as executive actions, in an attempt to contain and control migration. In the first two years of the Biden administration, the government implemented 403 immigration-related executive actions, as reported by the Migration Policy Institute. By comparison, the Trump administration launched 473 immigration-related measures over the course of four years. 
Amid the dizzying array of measures and the end of Title 42, AS/COA Online explores major active U.S. immigrations programs with a focus on how they affect Latin American migrants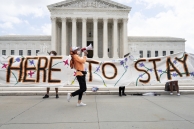 Explainer: What Is DACA?
With a decision from the U.S. Supreme Court upholding DACA, AS/COA Online looks at the immigration program, the Trump administration's attempt to end it, and its current status.