Explainer: Brazil's 2022 General Election
Ahead of the October 2 first round, learn about the faceoff between Bolsonaro and Lula, as well as congressional contests.
Brazil has a mega election on the horizon. Brazilians will head to the polls October 2 to elect a president, 27 out of 81 senators, all 513 members of the Chamber of Deputies, and all 27 governors and state legislatures. For the presidential and gubernatorial races, if no candidate receives more than 50 percent of the vote, runoffs take place October 30.
Atop voters' ballots is a presidential race that features two political heavyweights: current President Jair Bolsonaro and former President Luiz Inácio Lula da Silva (2003–2010). For the past year, the two have engaged in a highly polarized and aggressive campaign, each portraying the other as an existential threat to Brazilian democracy. Tensions are running high in the country, as evidenced by instances of electoral violence between supporters and screaming matches between high-level surrogates.
Whoever wins the election will inherit a Brazil faced with a challenging economic situation. A combination of stimulus spending during the Covid pandemic and economic shocks from Russia's invasion of Ukraine has driven up inflation and contributed to rising consumer prices. This has hurt lower- and middle-class Brazilians who are struggling to afford food and fuel. Still, GDP growth has been slightly better than expected, growing 1.2 percent in Q2 of 2022, higher than the forecasted 0.9 percent.
Voting is compulsory in Brazil. In the 2018 first-round vote, turnout was close to 80 percent.
Ahead of the vote, AS/COA Online provides an overview of the presidential candidates and the legislative scenario.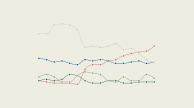 Poll Tracker: Brazil's 2022 Presidential Election
See how competition between presidential hopefuls is shaping up ahead of the October 2 first-round vote.
Two Rallies, Two Brazils, and a Still Uncertain Election 
After attending rallies for both Lula and Bolsonaro, AQ's editor-in-chief reports on a polarized and slightly murky race.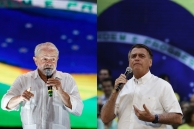 LatAm in Focus: Kingmakers and Key Issues in Brazil's Lula-Bolsonaro Showdown
Quaest pollster Felipe Nunes and John Hopkins' Beatriz Rey cover the role of swing votes, social media, and secret budgets in October's elections.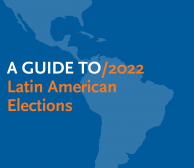 Guide to 2022 Latin American Elections
AS/COA covers this year's votes in the Americas, from presidential elections to referendums.