Explainer: 2016 U.S. Presidential Candidates' Ties to Latin America
AS/COA Online takes a look at Latin American connections for a handful Democratic and more than a dozen Republican presidential hopefuls in the 2016 race for U.S. president.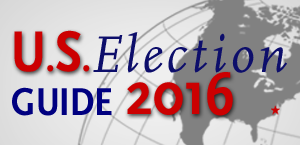 Updated July 12, 2016 — Who's for the Trans-Pacific Partnership (TPP), and who's against it? Who's changed their position on it? Who support a path to citizenship and who doesn't? Which candidates' relatives immigrated to the United States? And importantly, do any candidates speak Spanish or Portuguese?
In the race for the Oval Office—the Latino electorate projected at 27.3 million voters in 2016, up from 23.3 million voters in 2012—may play a bigger role than ever before. Republicans in particular are feeling the pressure, with only 20 percent of Hispanics likely to favor GOP candidates. But the 2016 elections could represent a historic turn for the party with two Latino candidates and a third with close Latin American ties: Marco Rubio, Ted Cruz, and Jeb Bush (the last of whom influential Univision host Jorge Ramos said could be considered a "Hispanic candidate.")
Over the course of campaigning, close to two dozen candidates officially declared their candidacy—with about five times as many Republican candidates as Democratic. Here's what you need to know about leading candidates' personal and political ties to Latin America and their stances on issues that affect the region and Latinos in the country.
| | |
| --- | --- |
| CANDIDATES | CANDIDATES WHO'VE DROPPED OUT |
Hillary Clinton is the presumptive Democratic nominee. Before Obama appointed his former primary rival to be his first Secretary of State, she largely focused her professional and political careers on domestic issues such as health care and education.
Immigration and Latin America policy: During her time as secretary, Clinton saw steps forward in regional ties that were at times balanced against a faux pas back. Clinton toured Mexico two months into her term and made headlines when she acknowledged the United States' "co-responsibility" for violence stemming from organized crime, saying: "[The United States'] insatiable demand for illegal drugs fuels the drug trade." Relations with Brazil grew tense over revelations that the National Security Administration spied on the country, and that Clinton in particular had asked for personal notes on Brazilian leaders: "We especially value information on leaders' operating styles, demeanors, motivations, strengths and weaknesses, relationships with superiors, sensitivities," she wrote in one cable to U.S. diplomats in Brazil. The revelations prompted Brazilian President Dilma Rousseff to cancel a planned state visit to Washington in the fall of 2013. U.S.-Venezuela relations also continued their decline during that time, and the two countries have not exchanged ambassadors since 2010. That said, while in Brazil to attend the first Rousseff's first inauguration in 2011, Clinton bumped into then-Venezuelan President Hugo Chávez. The late Bolivarian leader said of their meeting, "She had a very spontaneous smile and I greeted her with the same effusiveness."
On October 7, she came out against the TPP, a reversal of a previous position, citing concerns about currency manipulation and excessive concessions to pharmaceutical companies. One item that resurfaced this spring is Clinton's role in a U.S.-Colombia free-trade agreement (FTA). During her 2008 presidential campaign, then-Senator Clinton opposed the pact, saying she would do "everything I can to urge Congress to reject" the deal, which she said would hurt U.S. workers. She changed her position, however, while secretary, and the trade accord went into effect in May 2012. This week, the International Business Times reported that her about-face on the issue came at the same time that the Clinton Foundation received millions of dollars in donations from a Canadian oil company and its founder (who now is on the Clinton Foundation's board) with extensive operations in South America, and Colombia in particular.
In the end, Clinton might get her biggest boost from Latinos in the United States: young Latinos skew 52-32 in favor of the Democratic Party. In the fall of 2014, Clinton issued a detailed statement of support of Obama's executive actions on immigration. On April 16, Clinton came out in support of driver's licenses for undocumented immigrants, a change from her position on the issue during her previous campaign.
Travels to the region: During her term as secretary of State, she set new records for travel; Clinton traveled to Latin America a total of 18 times out of the 88 trips she made during her tenure from 2009 to 2012, with two regional tours, both in 2010. Of note, she visited Haiti (where she and her husband honeymooned in 1975) for four days after the devastating 2010 earthquake that leveled much of the capital. 
Donald Trump is a real estate developer, businessman, and television host from Queens, New York. He has floated the idea of his candidacy for presidency multiple times dating back to 1988 but never held public office.
Immigration and Latin American policy: Trump is in favor of enforced border security (specifically a wall) and limited legal immigration, and opposes Obama's executive action on immigration. "The U.S. has become a dumping ground for everybody else's problems," said Trump, sharing his sentiments on Latin American immigrants during his campaign announcement speech on June 16. "When Mexico sends its people, they're not sending their best. …They're sending people that have lots of problems, and they're bringing those problems with [them]....It's coming from more than Mexico; it's coming from all over South and Latin America." In the weeks following, many cut ties with Trump due to his comments, including NBCUniversal (which broadcast Trump's Miss U.S.A. pageant), Univision, Mexican billionaire Carlos Slim, and U.S. retailer Macy's.
In a 2014 interview with Brazilian weekly Veja, Trump said Brazil was known for its high tax burden, which wasn't a good thing, and that he did not know who President Dilma Rousseff or ex-President Lula da Silva are. 
Travels to the region: Trump met with then-Panamanian President Ricardo Martinelli in Panama City in July 2011 at the opening of the Trump Ocean Club hotel, the tallest building in Latin America at the time and his first investment outside the United States.
---
The Candidate Graveyard
There can be only one (per party).
"He's practically Cuban," Senator Marco Rubio once told the Miami Herald about his fellow Floridian and former mentor, Jeb Bush. The former Florida governor, who speaks fluent Spanish and whose wife is Mexican, identified himself as Hispanic on his voter-registration application for the Miami-Dade County Elections Department in 2009, as was revealed in April. "My mistake!" he later tweeted. Bush has been actively raising money this year and is, on the one hand, vying to be the third president from his immediate family, after father George H.W. and older brother George W. Bush. On the other hand, the former Florida governor is distinct from his father and brother in a few ways, especially for his extensive ties to Latin America.
Bush dropped out of the race on the evening of February 20, after a disappointing fourth-place finish in the South Carolina GOP primary.
Immigration and Latin America policy: Bush has been actively involved in immigration matters. In 2013, he wrote a book on the subject, Immigration Wars: Forging an American Solution, in which he argued against a pathway to citizenship for those who entered the country illegally, a reversal of his previous position. But, despite his strength among this electorate, Bush does not necessarily have a lock on the Latino vote. He ably won the Latino vote in Florida when running for governor against Democrat Buddy McKay, but in a presidential primary, he'd likely split that bloc with Marco Rubio, according to The Washington Post. Bush, along with Rubio, opposes President Barack Obama's actions to normalize U.S. relations with Cuba.
Travels to the region: During a trip to León, Mexico, Bush met his future wife, Columba, while the two were in high school and he was in her home city on an exchange program. He received his undergraduate degree in Latin American Studies from the University of Texas (Phi Beta Kappa, no less), and lived in Venezuela for two years while in his 20s.
Ben Carson is a retired pediatric neurosurgeon, who gained recognition as the first surgeon to separate conjoined twins connected at the head. He is also an author and received the Presidential Freedom Award in 2008. Carson effectively dropped out of the race on March 2.
Immigration and Latin American policy: Carson has never held political office, and some have pointed out his lack of foreign policy experience—something he acknowledges as well. "I am still in the stage of rapidly learning about the political dynamics of global politics," he told Bloomberg in March. In 2014, Carson spoke out against Mexico's imprisonment of a U.S. marine sergeant, suggesting the U.S. government impose economic sanctions on the Latin American country to force the marine's release. Carson also said Mexico should help the United States address the surge of unaccompanied children. When Obama announced the reopening of diplomatic relations with Cuba, Carson told NewsMax TV that the new policy "doesn't make any sense." In his book America the Beautiful, he says undocumented immigration needs to be dealt with in a moral way, and that border issues also lack government leadership.
Travels to the region: Also in America the Beautiful, Carson wrote about a trip he took to Cuba with his wife and a group of U.S. business leaders not long before the book was published in 2013. (Carson does not give a precise date.) He mentioned Cubans' access to health care and their pursuit of freedom in the United States.
Lincoln Chafee is a former mayor, U.S. senator, and governor of Rhode Island.
Immigration and Latin American policy: Chafee is by and large a supporter of immigrant rights. In one of his first acts as governor once he was sworn in in 2011, he rescinded a controversial executive order on immigration and directed state police to no longer assist with federal immigration enforcement. Later that year, he supported in-state tuition for undocumented students. While a senator in 2005, Chafee cosponsored a bill by Arizona Senator John McCain, which included a pathway to citizenship, and also border security measures, though the bill died in Congress.
On trade, Chafee supports international trade accords and was one of 15 governors who wrote a letter of support for the TPP to Obama.
While a senator, Chafee was the chairman of the Senate Foreign Relations Subcommittee on Western Hemisphere Affairs. He criticized the George W. Bush administration's policy toward Venezuela and its late President Hugo Chávez, calling it "disrespectful" in 2005.
Travels to the region: Chafee traveled to South America at least once, and met with Chávez twice.
Governor Chris Christie took the New Jersey office in 2010. While he has no personal ties to Latinos, he won 51 percent of the Hispanic vote during his 2013 reelection. He ended his 2016 bid on February 10, after a disappointing sixth-place finish in the New Hampshire Republican primary.
Immigration and Latin America policy: Christie signed the New Jersey DREAM Act in 2014, allowing undocumented immigrants to pay in-state tuition for universities, though he declined a measure that would allow these students to receive financial aid or grants. More recently, and under the radar, the governor joined a brief supporting an injunction against President Barack Obama's executive action to expand Deferred Action for Childhood Arrivals (DACA), which provides legal protections against deportation for immigrants who arrived in the United States as minors. Christie has voiced support for North American energy integration, calling for the approval of natural gas pipelines between Mexico and the United States.
In April, Governor Christie spoke at the Washington Conference on the Americas and offered a view from the states regarding Western Hemisphere affairs.
Travels to the region: In September 2014, Christie spent three days in Mexico to meet with President Enrique Peña Nieto and the country's business community on trade opportunities. (Two-way trade between Mexico and New Jersey stands at $5.5 billion—making Mexico the state's second largest importer.) The trip resulted in a New Jersey partnership with ConnectAmericas.com, an online investment platform created by the Inter-American Development Bank to promote business opportunities for Latin American countries. New Jersey is the first U.S. state to join the initiative.
Senator Ted Cruz was born in Calgary, Canada. Though an immigrant like his Cuban father, he qualifies for the presidency as a naturalized U.S. citizen because his mother is a natural-born U.S. citizen from Delaware. His dad, on the other hand, fought as a revolutionary in Cuba before moving to Texas in 1957. Cruz does not speak Spanish. According to a November Latino Decisions poll, 31 percent of Latinos nationwide feel favorably toward Cruz.
Immigration and Latin America policy: Cruz has represented Texas in the Senate since 2012 and became the third Latino in U.S. history to announce his candidacy for president, after diplomat Benjamin Fernandez in 1980 and former New Mexico Governor Bill Richardson in 2008. He is a member of the Senate's Subcommittee on Immigration and the National Interest. In October 2013, he told journalist Jorge Ramos that he is "a passionate advocate of immigration reform." (Watch the interview.) However, the Texan voted against an immigration reform bill presented to the Senate in 2013, though he did propose an amendment to expand border security.
In 2014, Cruz sponsored two bills related to Latin America. He opposed Obama's executive order expanding DACA, co-sponsoring a bill blocking the measure. He also co-authored the Guantanamo Bay Detainee Transfer Suspension Act of 2014, limiting the use of funds for the transfer or release of prisoners. Neither bill passed.
When it comes to recent shifts in Washington's Cuba policy, Cruz called Obama's policy change "a tragic mistake."
Travels to the region: Cruz has made no official visits to Latin America during his term as senator. 
Carly Fiorina was Hewlett-Packard's first female CEO from 1995 to 2005. Born in Texas, Fiorina lived mostly in California, where she ran for a senate seat in 2010. Fiorina lost, but not before receiving endorsements from Latino organizations, such as Hispanic 100, the Hispanic Leadership Fund, and the Hispanic Business Roundtable. During her campaign, she launched "Amigos de Carly," a website to attract Latino support. She dropped out of the GOP race after finishing seventh in New Hampshire.
Immigration and Latin America policy: Fiorina has openly supported a controversial Arizona law considered to encourage racial profiling of Latinos. While she supports the DREAM Act, she describes securing the U.S. borders as the first step to deal with immigration.
Gilmore was the governor of Virginia from 1998 to 2002. This is his second bid for the presidency. He backs open markets and guest-worker programs. On immigration, he opposes a pathway to citizenship, but does support a way for the undocumented in the country to attain legal status. Jim Gilmore exited the race on February 12.
Lindsey Graham is the senior U.S. senator from South Carolina. First elected to the Senate in 2002, he served in the U.S. House for eight years and in the South Carolina legislature for two before that. Prior to entering politics, he had a 33-year military career, serving as a military attorney for the Air Force and colonel in the Air Force Reserves.
Immigration and Latin American policy: In his time in Congress, Graham has consistently supported and led efforts on comprehensive immigration reform. "We better get immigration right," he said at the Republican Leadership Summit in April. "You are going to have to come up with an immigration system to have workers to run the economy in the future." He also supports a pathway to citizenship, telling USA Today in May: "If I were president of the United States, I would veto any bill that did not have a pathway to citizenship." He voted to approve such measures as increasing visas for skilled workers, extending the timeframe for immigrants applying for residency, guest worker programs, and undocumented immigrant participation in Social Security. Graham also supports constructing a border fence and requiring undocumented immigrants to register with the government, and he opposes President Obama's executive order on immigration.
Graham voted in favor of Trade Promotion Authority (TPA), which gives the president "fast-track" trade negotiating authority.
Travels to the region: Graham is not known to have made any travels to the region.
Originally a reverend, Mike Huckabee entered politics in 1993 and served as governor of Arkansas from 1996 to 2007. Huckabee first ran for president in 2008, when he won the Iowa Republican caucuses but later conceded to eventual nominee John McCain. Huckabee suspended his 2016 campaign after a disappointing finish in the Iowa caucuses.
Immigration and Latin American policy: While Huckabee says he opposes "amnesty" generally, he has voiced support for a pathway to citizenship for DREAMers, saying that children shouldn't be held responsible for the actions of their parents. "I don't know that we've ever been a nation that said if you're in the backseat of your car when your dad is speeding, we're going to charge you in the backseat for what your dad did up in the front seat," he said in January. That said, he opposes Obama's recent executive actions on immigration (which he says are unconstitutional), and is in favor of stronger border security.
In a break from his party, Huckabee opposes the TPP, a trade deal he says disadvantages U.S. workers and would drive wages "lower than the Dead Sea." He also opposes granting Obama "fast-track" authority on trade deals. "Fast-track means that nobody's paying attention. The last time we really fast-tracked something was Obamacare," he told a reporter on May 6.
Travels to the Region: Records from Huckabee's 12 years as governor—including travel records—were destroyed shortly after he left office in January 2007. In December of that year, Huckabee visited the U.S. detention facility in Guantanamo Bay, Cuba. "The inmates there were getting a whole lot better treatment than my prisoners in Arkansas," he said after returning.
Piyush "Bobby" Jindal is a former U.S. representative and current two-term governor from Louisiana. At 44 years old and born 13 days after Marco Rubio, he was the youngest of the candidates.
Immigration and Latin American policy: Jindal says border security is the first priority in immigration policy, while also calling for an increase to legal immigration, especially for skilled workers. "Once the border is secure, and not before, we should provide an opportunity for those who came here illegally seeking to work for a better life to gain legal status rather quickly, if and only if they are willing to do all that is required," he wrote in a 2013 op-ed. In a recent ad, Jindal, whose parents were immigrants, said those wishing to immigrate to the United States "should adopt our values [and] learn English." He said in June that he would repeal Obama's executive orders, including the one on immigration, which he called "illegal."
Jindal was one of 27 House Republicans to vote against the Central America Free Trade Agreement (CAFTA) in 2005. He is generally in support of giving "fast-track" authority to the president, though not to Obama.
Travels to the region: Jindal is not known to have traveled in an official capacity to Latin America, though he did take a trip to the U.S.-Mexico border to monitor the immigration crisis connected with unaccompanied minors in August 2014.
Governor John Kasich began his political career at the age of 24, when he became Ohio's youngest state senator. From 1983 until 2001, he held a seat in the U.S. House of Representatives, where he was chairman of the budget committee. He won the governorship after a landslide in 2011. It's not the first time the politician has entered the race for the White House: Kasich first ran as a Republican candidate for the 2000 elections, but shortly after withdrew. While Kasich hosted his own Fox News show From the Heartland with John Kasich every Saturday between 2001 to 2007, he was the managing director of the investment banking division at Lehman Brothers until its notorious collapse in 2008.
Immigration and Latin America policy: Kasich's views on immigration have varied over time. As a congressman in 1998, he voted to increase the amount of temporary visas for highly skilled immigrant workers. Then in 2010, Kasich told The Columbus Dispatch in 2014 that he wanted to end birthright citizenship for children of undocumented immigrants that are born in the United States. But Kasich has since changed his mind, citing personal experiences such as his wife's Nicaraguan friend, which was forced to leave the country. "So when I look at a group of people who might be hiding, who may be afraid, who may be scared, who have children, I don't want to be in a position of where I make it worse for them," he said. With Latinos in Ohio leading the state's population growth, the candidate now supports some kind of pathway to legal status, though not necessarily citizenship. Notwithstanding, Ohio is one of the states suing the White House over DACA.
Travels to the region: Kasich no known official trips to Latin America.
Martin O' Malley was born in Washington, D.C. and has been Maryland's governor since 2007. While Latinos account for 9 percent of the state's population, O'Malley has no explicit personal ties to the community. However, he studied Spanish in high school and delivered a speech in Spanish at an event in 2004 while mayor of Baltimore, in a rebuttal to remarks by the then-governor and comptroller against non-English speakers. O'Malley dropped out of the Democratic race on the evening of the Iowa caucuses.
Immigration and Latin America policy: O'Malley has taken note of the growing Latino population in his state by signing various laws. For example, in 2011 he enacted the Maryland DREAM Act, and in 2013, allowed undocumented immigrant residents to get driver's licenses. The governor also responded to the migrant crisis last summer with a humanitarian approach, and sought to encourage foster care in the state for the unaccompanied minors arriving from Central America. In March 2014, O'Malley met with national Latino organizations to discuss immigration reform.
He's also supported trade with Latin America, increasing the size of the Baltimore port in 2009 from which 10 percent of exports set out to Central and South America.
Travel to the region: O'Malley embarked on an official nine-day trade visit to Brazil, and afterwards El Salvador, in December 2013. (Brazil is Maryland's number one importer.)
George Pataki is a former mayor, state legislator, and three-term governor of New York state.
In 2007, then-President George W. Bush appointed him to be the U.S. representative to the UN General Assembly, and he speaks some Spanish. He did particularly well among Latino voters—especially in New York City neighborhoods with strong ties to South America—in his 2001 bid for governor. "I carried the Latino community," he told Jorge Ramos in a May 29 interview. "I won it as a Republican." Pataki declared a Celia Cruz Day in 2003 after the legendary Cuban singer and "Queen of Salsa" passed away in the New York metro area.
Immigration and Latin American policy: Pataki supports a pathway for undocumented immigrants to gain legal status, albeit not citizenship, and was critical this year of Obama's executive order on immigration and efforts to restore relations with Cuba. 
Travels to the region: In April 2001, Pataki toured the island of Vieques, Puerto Rico, in support of the effort to end the U.S. Navy's bombing exercises there. He also joined a mission to Cuba.
Kentucky Senator Rand Paul, son of former 2008 presidential candidate Ron Paul, was born in Pennsylvania but grew up a Texan. Paul has said "I lived, worked, played, and grew alongside Latinos." Before entering politics, Paul practiced as an eye surgeon and participated in the Children of Americas Program, for which he performed surgery on children of developing countries pro bono, including two Guatemalan brothers in 1999. A 2014 poll by the Huffington Post showed 24 percent of Latinos would consider voting for the GOP candidate. Paul ended his campaign on February 3, two days after the Iowa caucuses.
Immigration and Latin America policy: Paul became a senator in 2010 and sits on the Senate Committee on Foreign Relations. In the past Paul has advocated to scale back U.S. involvement in foreign affairs, but he has not mentioned foreign relations with Latin America. In terms of immigration, Paul sponsored a bill in December last year that would limit the president's ability to unilaterally expand "certain forms of immigration relief." It was not passed.
Travels to the region: Paul journeyed to Guatemala in August 2014 to help treat local patients. Though the trip was not made under his senatorial capacity, the Kentucky senator did bring along his political aides and advisers. A licensed ophthalmologist, Paul performed surgeries in the town of Salamá for free. Paul also visited Guatemalan President Otto Pérez Molina to discuss solutions regarding the migrant crisis.
Rick Perry served as the governor of Texas from 2000 to January 2015, and was the state's commissioner of agriculture and a state representative before that. The border state politician, whom The Atlantic referred to as a caudillo, or strongman in the parlance of Latin American politics, speaks and understands some Spanish.
Immigration and Latin American policy: Border security is a prominent issue for Perry, almost to the exclusion of other related issues. "You're not going to have comprehensive immigration reform until the border is secure," he told Fox News Sunday in 2014. He opposes Obama's executive action on immigration, but said in February that it would be unrealistic to deport the 11 million immigrants in the country illegally. Perry allocated $800 million to the issue over the last five years, and oversaw a "surge" of law enforcement to the Mexico-Texas border in 2014. In 2001, Perry signed into law a measure granting in-state tuition for undocumented students, which critics pressed him on during the 2012 primary debates. Since then, he appears to have stepped back from his position, not openly supporting or renouncing it, but deferring to the state legislature.
A fan of free trade but wary of granting the federal government more powers (and, he says, less transparency), Perry tentatively supports TPP and TPA. Perry and his party were sued by the League of United Latin American Citizens in 2006 over charges of gerrymandering of congressional districts in Texas that diminished the influence of Latino voters, although the U.S. Supreme Court upheld most of the redistricting plan.
Travels to the region: Perry is not known to have traveled to Latin America during his tenure as governor.
Florida Senator Marco Rubio was born in Miami in 1971 to Cuban parents who emigrated from the island in 1956—before Fidel Castro came to power. His Colombian wife is also the daughter of immigrants. Rubio received 55 percent of the Hispanic vote in Florida in 2010, Latino Decisions says 31 percent of Latinos nationwide have a "very" or "somewhat" favorable opinion of Rubio. Bonus: Habla español.
Rubio dropped out on March 15, after losing his home state to Trump by 19 points.
Immigration and Latin America policy: Rubio, one of the most prominent Latino members of Congress, was elected as a Florida senator in 2010. He serves on the Senate's Committee on Foreign Relations, and within it, the Subcommittee on the Western Hemisphere. Rubio is co-sponsor of six laws proposed by the committee that were ratified. Among them: a December 2014 bill penalizing Venezuelans who targeted anti-government protestors, a 2013 law to revitalize and refocus the influence of the Organization of American States as the primary diplomatic entity in the hemisphere, and the extension of various immigration laws.
Rubio's most well known legislation may be an immigration bill that never made it past the House floor. In 2013, Rubio joined the bipartisan "Gang of Eight" senators in co-authoring the Border Security, Economic Opportunity, and Immigration Modernization Act, which proposed comprehensive reform ranging from visa programs to improving security at the U.S.-Mexico border. The bill passed the Senate in June 2013, but it died in the House. After blowback from his party, Rubio has since backed off the bill and the positions therein. 
Travels to the region: Rubio traveled in an official capacity to Haiti, Colombia, and Cuba in 2012. The trip was his first to Cuba, where he stopped at the Guantanamo Bay detention facility. He traveled to Colombia again in 2014 to discuss trade and the country's recent security gains. (Florida trade with Colombia is the highest of all U.S. states.)
Bernie Sanders has represented Vermont in the U.S. Congress since 1990, first as the state's at-large representative in the House, and since 2006, as the state's junior senator. Registered as an Independent in Congress, Sanders has chosen to run for President on the Democratic ticket. On July 12, almost a month after the last Democratic primary, Sanders dropped out and endorsed Clinton.
Immigration and Latin American ties: In Congress, Sanders is a vocal opponent to TPP, describing U.S. trade policy over the last several decades (and the North American Free Trade Agreement, or NAFTA, in particular) as "disastrous" and a contributor to the decline of the U.S. middle class. On April 20, he joined labor leaders at a rally against the TPP. He is also one of 12 senators who sent a letter to Senate Minority Leader Harry Reid (D-NV) to express opposition to TPA.
On immigration, Sanders supports a path to citizenship, as well as Obama's November 2014 executive action to protect undocumented immigrants from deportation. On Cuba, he again supports the president's actions to normalize U.S.-Cuba relations, remove Cuba from the State Sponsors of Terrorism List, and lifting the trade embargo. "Fifty years of Cold War is enough," he said.
Travels to the region: Sanders was part of a congressional delegation that traveled to Cuba in February 2014 to discuss human rights, trade, and health care issues in Havana.
RICK SANTORUM
Republican
Rick Santorum is a former U.S. representative and senator from Pennsylvania and served in Congress from 1991 to 2007. This is his second run for president; in 2012, he edged out Romney by 34 votes to win the Iowan Republican caucuses. He dropped out of the 2016 contest two days after garnering 1 percent of votes in the Iowa caucuses.
Immigration and Latin American policy: Santorum supports reducing immigration levels from one million immigrants per year (the current level) to 750,000. While in the Senate, he sponsored one bill to strengthen border security, though it died in Congress. In his unsuccessful 2006 Senate reelection bid he made opposition to undocumented immigration part of his platform.
On trade, Santorum voted against NAFTA in 1993 while in the U.S. House, but also voted in support of CAFTA as well as a handful of free-trade deals with individual countries. In 2006, he sponsored a failed resolution that condemned "the anti-democratic actions of and repressive regimes created by the leaders of…Cuba and Venezuela."
Travels to the region: Santorum has not made any documented trips to Latin America. 
Governor Scott Walker of Wisconsin was born in Colorado in 1967. Wisconsin elected him to the governor's seat in 2010. Walker's personal ties to the Hispanic community are through his brother, who has in-laws from Mexico. In 2013, Walker fired two employees working in his campaign for racist remarks against Hispanics.
Immigration and Latin America policy: Walker first showed support for immigration reform with a 2002 resolution allowing undocumented working immigrants to apply for legal residency, but has since been less clear about his stance on immigration. Beginning in 2013, Walker asked the Mexican government to establish a consulate in Wisconsin, which has a growing Hispanic population reaching around 355,000.
Travels to the region: In March, Walker took a trip to the U.S. border with Mexico, staying on the Texas side.
Jim Webb is a former senator from Virginia, with a long career in military and defense. He is also the author of 10 books a filmmaker, winning an Emmy in 1983 for his coverage of U.S. Marines stationed in Beirut for PBS. Although he originally joined the race for the Democratic nomination, on October 20, he announced he was dropping out of that contest.
Immigration and Latin American policy: Webb is an atypical Democrat, expressing skepticism of increased immigration (as well as nondiscrimination laws for minorities and affirmative action). He has not announced a position on TPP and criticized free-trade agreements in the past, though he did vote in favor of a trade deal with Peru.
Travels to the region: Webb, whose military and political career has focused heavily on Vietnam and South East Asia, is not known to have traveled to Latin America.
---
Celeste Castillejo contributed to this article.