Chart: How U.S. Latinos Voted in the 2020 Presidential Election
There's a lot more to see when you look beyond Florida.
Talk about the Latino vote surged after incumbent President Donald Trump picked up Florida's 29 electoral votes early on Tuesday evening. Indeed, the Cuban-American vote in Florida was decisive, breaking 56-41 for the Republican incumbent compared to an even 49-49 split among non-Cuban voters. But the Latino vote in Florida is a singular one.
Nationwide, Democrat Joe Biden got 66 percent support in national exit polls, on par with Hillary Clinton's 65 percent in 2016. It was nevertheless a mixed bag: he performed 6 points better in California, for example, but 4 points worse in Nevada, where Latino men voted for Trump in particularly high numbers.
In the chart below, we look at how Latinos voted overall for Trump and Biden, how Latino support changed for the Democratic and Republican candidates from the last general elections, and a breakdown of the vote by gender in five states with substantial Latino voting blocs.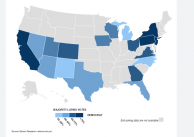 Chart: How U.S. Latinos Voted in the 2016 Presidential Election
Though Latinos made up a record portion of the electorate on November 8, fewer voted for Hillary Clinton than expected.